Shrimp Scampi Zoodles
Zucchini noodles stand in for pasta in this low-carb shrimp scampi makeover. And you may not even need a spiralizer (the special gadget that makes veggies into curlicues). Check your supermarket produce section: some stores sell spiral-cut zucchini.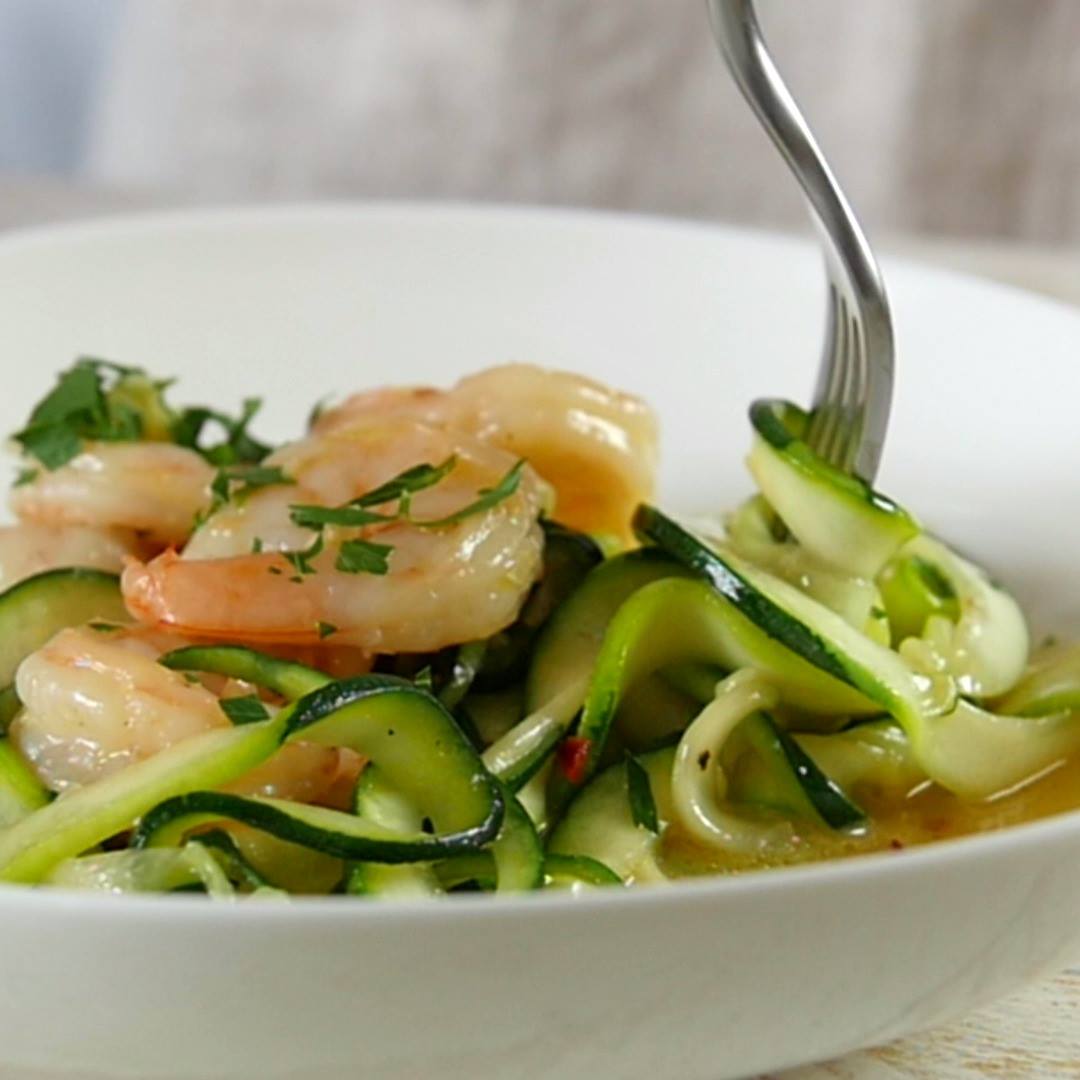 Ingredients
6 tablespoons unsalted butter, cut into cubes
4 tablespoons extra-virgin olive oil
4 cloves garlic, minced
½ teaspoon crushed red pepper flakes
1 cup dry white wine
Finely grated zest of 1 lemon
1½ pounds medium peeled and deveined shrimp, tails removed
Kosher salt and freshly ground pepper
6 cups zucchini noodles, from 2 medium zucchinis (about 1 pound)
¼ cup roughly chopped fresh flat-leaf parsley
Instructions
Special equipment: a vegetable spiralizer
Heat the butter and 2 tablespoons oil in a large skillet over medium-high heat. Once the butter melts, add the garlic and red pepper flakes, and cook, stirring, until fragrant and the garlic is just golden, about 2 minutes. Add the wine and lemon zest and cook, reducing the sauce until the alcohol smell is gone and the sauce is a nice golden color, 4 to 5 minutes. Add the shrimp, ½ teaspoon salt and a few grinds of pepper and cook, stirring frequently, until the shrimp start to turn pink on the outside but are still translucent inside, about 3 minutes.
Add the zucchini noodles and toss with tongs until they are well coated with the sauce and have wilted slightly, about 3 minutes. Season to taste with salt and pepper.
Transfer to a serving bowl, drizzle with the remaining 2 tablespoons olive oil, sprinkle with parsley.
Watch the recipe video here: