Fully Loaded Breakfast Crepe
All your breakfast faves, hugged tightly in a pocket perfect for dipping.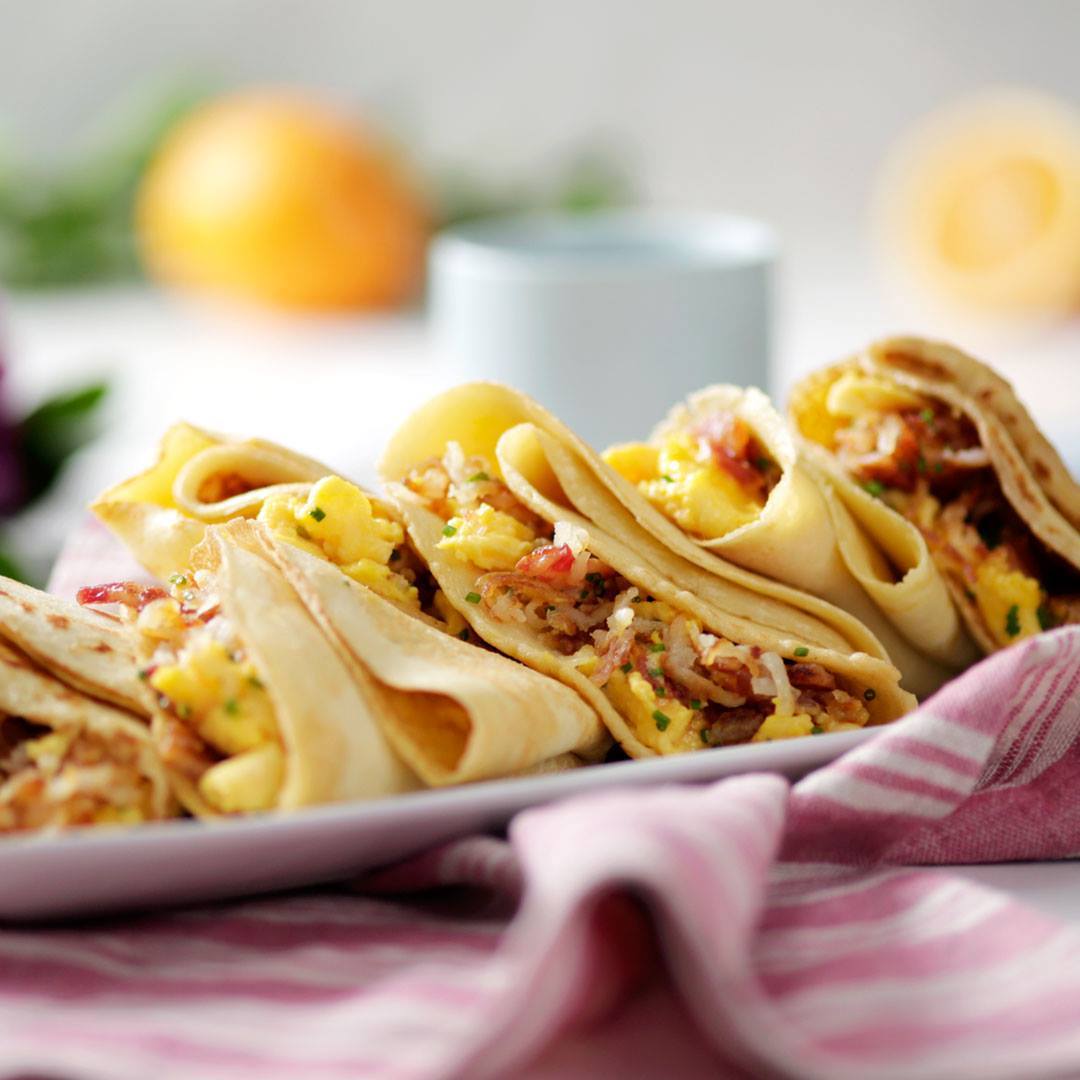 Ingredients
For the pancake:
2 large eggs
¼ teaspoon vanilla
¼ teaspoon salt
1 cup whole milk
1½ cups all-purpose flour
½ tablespoon sugar
½ teaspoon butter
For the filling:
3 cups scrambled eggs
½ cup shredded cheddar
2 tablespoons chopped chives
4 strips bacon, baked and chopped
2 hash browns, baked and chopped into small pieces
Salt for seasoning
½ cup maple syrup, for dipping
Instructions
Make the pancakes:
In a medium bowl, whisk eggs until lightly beaten. Add vanilla, salt and half of the milk. Stir until combined. Add flour and sugar and whisk until smooth. Add remaining milk and whisk until batter is thick and smooth. Heat a 10-inch nonstick pan on medium-high heat. Drop butter in and allow to melt. Pour ½ cup of batter into pan and cook until golden. Bubbles will form across the top of the pancake when it is time to flip. Cook the other side until golden and set aside. Repeat until all batter is used, and keep warm while the filling is made.
Assemble the pancake pockets:
Place two tablespoons of scrambled eggs with cheese in the center of the pancake. Season with salt, and top with chives. Add two tablespoons of chopped bacon and hash brown pieces and fold the pancake into a triangle. Keep pockets warm as you assemble the remaining ingredients. Serve warm with maple syrup.
Watch the recipe video here:
All your breakfast faves, hugged tightly in a pocket perfect for dipping.Taste for Yourself: taste.md/2tNUbdPTry Tastemade TV, Free for 7 days: https://taste.md/2zcId3s

Posted by Tastemade on Sunday, July 8, 2018