Farro Salad With Cucumber And Yogurt-Dill Dressing
Farro Salad With Cucumber And Yogurt-Dill Dressing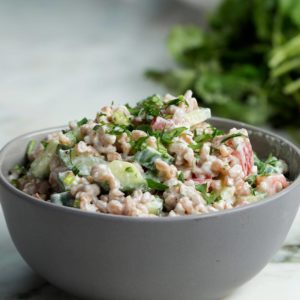 Ingredients
1 ½ cups uncooked farro (255 g)
1 english cucumber, seeded and chopped
salt, to taste
3 plum tomatoes
½ cup scallions, chopped (50 g)
fresh parsley, minced, for garnish
YOGURT-DILL DRESSING
¾ cup greek yogurt (215 g)
½ lemon, juiced
2 tablespoons olive oil
1 teaspoon pepper
1 teaspoon fresh parsley, minced
1 teaspoon fresh dill, minced
Instructions
Rinse the farro and add it to a medium saucepan. Add water until the farro is covered. Bring to a boil over medium-high heat. Once boiling, reduce the heat to medium, cover, and cook for 25 minutes, until the farro is tender
While the farro cooks, seed and chop the cucumber. Add it to a large bowl and sprinkle with salt. Let sit for 15-20 minutes. Rinse the cucumbers in cold water and drain well.
Dice the tomatoes.
Make the dressing: Add the yogurt, lemon juice, oil, pepper, parsley, and dill to a large bowl and stir to combine.
Add the farro, cucumbers, tomatoes, and scallions to the bowl with the dressing and toss to coat. Sprinkle with parsley.
Enjoy!
Watch the recipe video here:
Farro salad with cucumber and yogurt-dill dressing is SO refreshing ?FULL RECIPE: https://tasty.co/recipe/farro-salad-with-cucumber-and-yogurt-dill-dressing

Posted by Proper Tasty on Friday, May 24, 2019