Grilled Peach and Corn Salad
Recipe of the Day: Grilled Peach and Corn Salad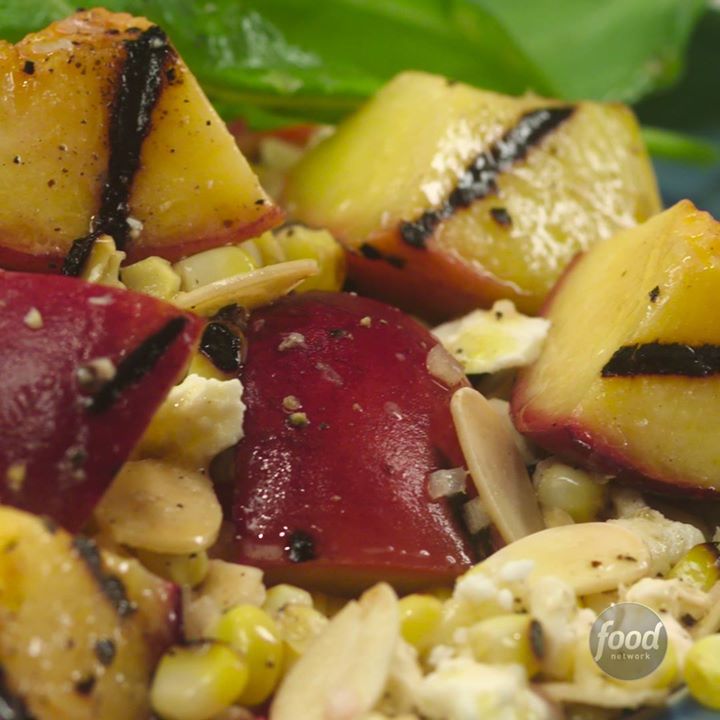 Ingredients
¼ cup extra-virgin olive oil, plus more for drizzling
4 ears corn, shucked
3 peaches, each cut into 4 wedges
Kosher salt and freshly ground black pepper
2 tablespoons white wine vinegar
1 teaspoon Dijon mustard
½ Fresno pepper, halved, seeded and thinly sliced into half-moons
½ small shallot, finely minced
⅓ cup toasted sliced almonds
⅓ cup crumbled feta (2 ounces)
4 cups baby arugula (2½ ounces)
Instructions
Prepare a grill for medium-high heat. Drizzle some olive oil on the corn and peaches and sprinkle with salt and pepper. Grill the corn and peaches, turning them periodically, until they develop dark grill and char marks on all sides, 6 to 8 minutes for the peaches and 10 to 12 minutes for the corn. Let cool slightly.
Meanwhile, whisk together the olive oil, vinegar, mustard, Fresno pepper, shallot, ½ teaspoon salt and a few grinds of pepper in a large bowl.
Cut the corn kernels from the cobs and discard the cobs. Slice the peach wedges crosswise so each piece has some grill marks. Add the corn kernels and sliced peaches to the large bowl of dressing along with the almonds and feta. Toss gently to coat. Check for seasoning and add more salt and pepper to taste.
Arrange a bed of arugula on a large platter. Top with the peach and corn salad.
Watch the recipe video here: