Charcoal Waffle Ice Cream Sandwiches
Charcoal infused waffles? With black ice cream? And yet, somehow they look sexy and you want them now.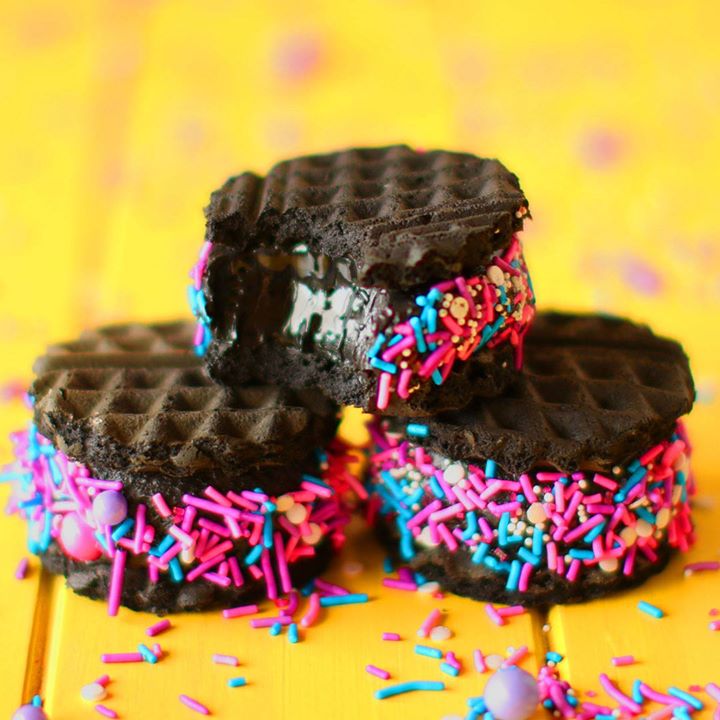 Ingredients
2 ½ cups all-purpose flour, sifted
4 tablespoons sugar
2 teaspoons baking powder
½ teaspoon salt
3 egg whites
3 egg yolks
½ cup melted butter
2 cups milk
¼ cup activated charcoal powder
1 ½ cups thickened/whipping cream
½ cup sweetened condensed milk
1 tsp vanilla extract
Sprinkles of your choice
Instructions
Ice Cream
Add cream, condensed milk, cocoa power and activated charcoal into a large mixing bowl and whip to stiff peaks using a hand mixer.
Transfer cream mixture to a deep baking dish. Freeze for at least 2-3 hrs.
Waffles
Preheat waffle iron
Sift together the flour, sugar, baking powder and salt, then lightly add charcoal powder using a whisk.
In a bowl, beat the egg yolks, and add the milk, buttermilk and the melted butter. Add the sifted dry ingredients.
In a small bowl, beat the egg whites to a thick foam and add them gently to the preparation until just combined.
Pour ¼ cup batter mix onto your iron; cook until done through. Should take about 5 minutes
Use a round cookie cutter to cut out waffle cookies
Scoop ice cream on one cookie and sandwich with another cookie. Roll ice cream around in sprinkles.
Watch the recipe video here:
Charcoal Waffle Ice Cream Sandwiches

Why eat black ice cream that tastes like chocolate? Because it's mental AF.Save this recipe: https://taste.md/2wyDd7eMore recipes on our app ? http://taste.md/2wkue93

Posted by Sweeten on Thursday, August 24, 2017