TACO MEATBALL BITES
These Mexican-inspired meatballs have just the right amount of spice, and can easily be paired with tons of toppings.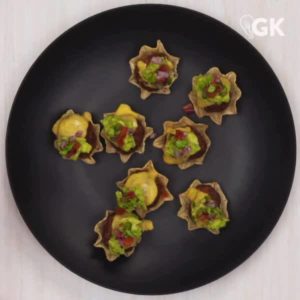 Ingredients
MEATBALLS
1 lb ground beef (80/20)
2 tablespoons taco seasoning
1 tablespoon tomato paste
2 tablespoons canned chopped chilies
1 large egg, lightly beaten
1⁄3 cup plain breadcrumbs
2 tablespoons chopped cilantro
TOPPINGS
24 -30 corn, chip scoops
cheese, dip (Queso, see recipe below)
1 cup guacamole
1 cup small dice pico de gallo
2 tablespoons finely chopped cilantro
1 cup sour cream
QUESO
1 1⁄2 cups grated cheddar cheese
1 1⁄2 cups grated monterey jack pepper cheese
1 tablespoon cornstarch
1 cup milk
1 ablespoon canned chopped chile
Instructions
Preheat oven to 400 degrees F. Line a baking sheet with parchment paper; set aside.
In a large bowl, combine ground beef, taco seasoning, tomato paste, 2 tablespoons chopped chilis, egg, breadcrumbs and chopped cilantro. Form into 2-inch meatballs and place on prepared baking sheet.
Bake for 15-20 minutes until cooked through. Remove and place each meatball in a corn chip scoop. Drizzle with queso, and top with guacamole, pico de gallo and chopped cilantro. Serve with a side of sour cream.
For the Queso:
In a large bowl, toss to combine cheddar cheese, pepper jack cheese and cornstarch. In a medium saucepan, bring milk to a simmer. Whisk in cheeses and chopped chilis. Bring to a simmer to thicken, about 1-2 minutes.
Watch the recipe video here: