Steak Fajita Crunch Bombs
Steak Fajita Crunch Bombs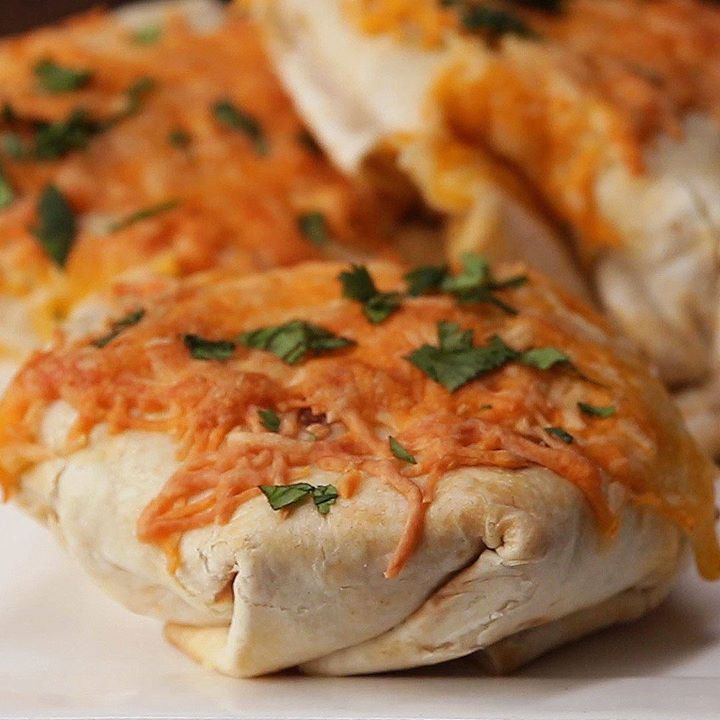 Ingredients
1 lb flank steak
1 tablespoon olive oil
1 teaspoon salt
1 teaspoon pepper
1 teaspoon cumin
1 teaspoon chili powder
4 cloves garlic, chopped
1 yellow onion, chopped
3 bell peppers, seeded, diced
9 medium flour tortillas
3 cups shredded mexican cheese blend
8 oz monterey jack cheese, sliced into 1-inch (2½ cm) pieces
18 tortilla chips
2 tablespoons fresh cilantro, chopped
Instructions
Preheat oven to 350°F (180°C).
Season flank steak with olive oil, salt, pepper, cumin and chili powder.
Heat a pan over high heat. Add the flank steak and cook for 3 minutes on each side.
Remove the flank steak from the pan and let rest for 10 minutes.
Turn heat down to medium. Add oil, garlic and onion to the pan. Cook until onions are translucent.
Add the bell peppers, salt, and pepper, and cook for 5 minutes, until softened.
Slice steak into ¼-inch (1 cm) cubes.
Add the cubed steak and stir to combine. Remove from heat.
Lay out one medium tortilla. Sprinkle Mexican cheese in the center, place two tortilla chips side by side over it, place a 1-inch chunk of jack cheese over the tortilla chips and finally, add roughy two spoonfuls of fajita mix on top.
Fold the top part of the tortilla over the mix and towards yourself, rotate the tortilla and repeat, creating folds as you go. Continue until the entire tortilla is folded towards the center. Flip over and place on a small baking pan.
Cover with mexican blend cheese and bake for 25 minutes.
Top with cilantro, serve.
Enjoy!
Watch the recipe video here:
These fajita crunch bombs are gonna have you drooling ?!FULL RECIPE: https://tasty.co/recipe/steak-fajita-crunch-bombsYou have a kitchen, right? Well, we have the essentials! Shop all the must-have goods here: http://bit.ly/2D1fcs6 – (BTW, we may make some $$ if you buy!)

Posted by Tasty on Wednesday, January 10, 2018