Ice Cream Milk Cake
For a cake that's uber moist and rich, it's hard to beat this milk cake made with, you guessed it, three different types of milk.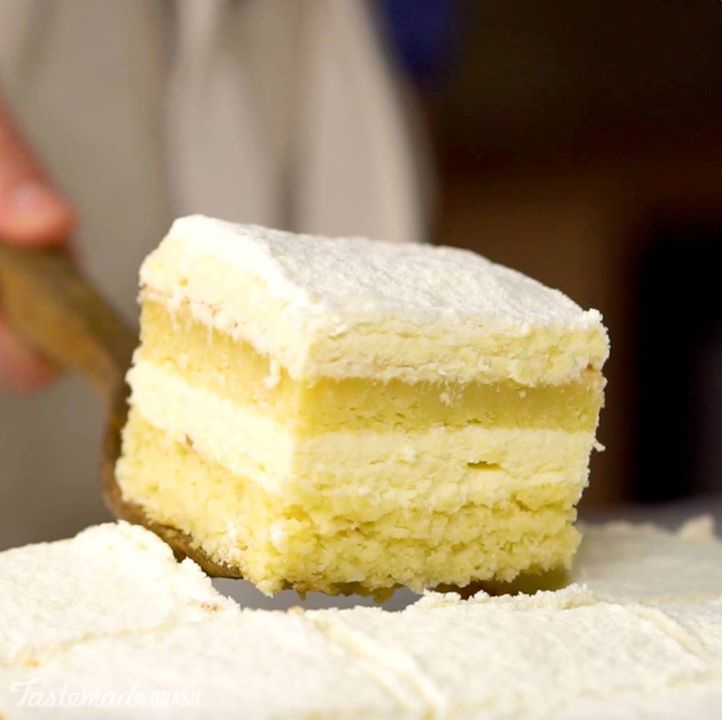 Ingredients
Batter:
1½ cups sugar
½ cup butter, softened
4 egg yolks
1⅓ cups milk
1½ cups flour
4 egg whites, beaten
1 tablespoon baking powder
Filling:
1 can sweetened condensed milk
½ cup butter, room temperature
½ cup heavy cream
2¾ cups powdered milk, plus ½ cup to sprinkle
Drizzle:
½ cup milk
½ can condensed milk
Instructions
Preheat oven to 350 degrees.
In a bowl, beat the sugar, butter and egg yolks until mixture is stiff and combined. Mix in the milk and then add the flour, stirring until combined. Gently add the egg whites and the baking powder, mixing well.
Pour the mixture into a greased and floured baking pan and bake for approximately 30 minutes, or until a toothpick comes out clean.
Using a mixer, blend 1 can of condensed milk with the butter.
Add the cream, mixing well, and gradually add the powdered milk. Set aside in the fridge.
For the drizzle, mix ½ cup milk with ½ can of condensed milk and set aside.
When chilled, cut the cake in half. Place half back in the pan and drizzle with half of the condensed milk syrup.
Add three-fourths of the filling, and cover with the other half of the cake. Drizzle with the rest of the condensed milk syrup. Cover with the rest of the filling, and sprinkle with powdered milk.
Refrigerate for at least 3 hours. Remove the edges, cut into wedges and serve.
Watch the recipe video here:
Eat cake because it's someone's birthday somewhere.Full Recipe: taste.md/2CT3P5C?: Tastemade Brasil

Posted by Tastemade on Wednesday, January 10, 2018