Cream Cheese-Stuffed Pumpkin Dinner Rolls
Win Thanksgiving with these cream cheese stuffed pumpkin rolls.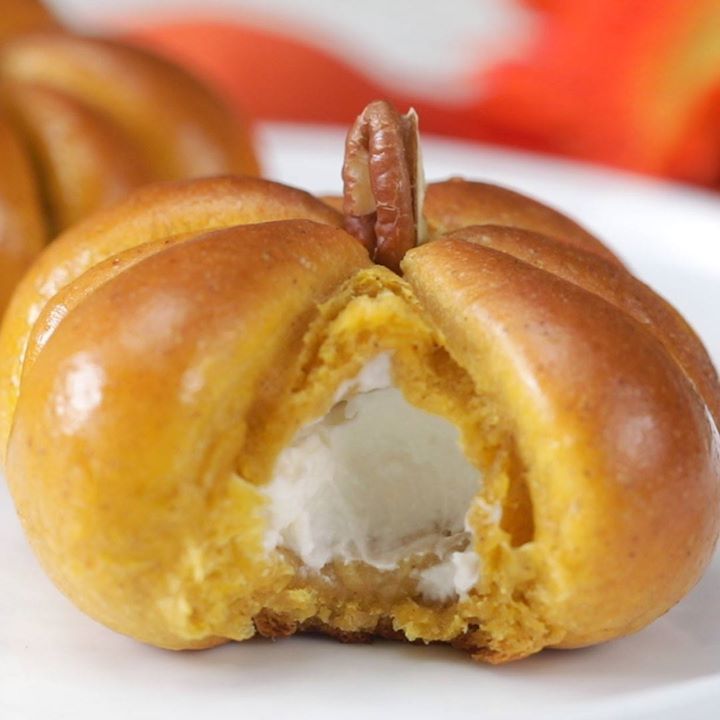 Ingredients
1 envelope active dry yeast
½ cup whole milk, scalded and allowed to cool to 110 degrees
1 teaspoon granulated sugar
⅓ cup brown sugar
4 tablespoons butter, softened
1½ teaspoons kosher salt
2 teaspoons pumpkin pie spice
2 eggs
1 cup pumpkin puree
4 cups all-purpose flour
8 ounces cream cheese, cut into ½-ounce blocks and chilled
20 pecan halves, sliced into thirds vertically
⅓ cup butter, melted
Instructions
In a small bowl, place yeast, 110-degree milk and granulated sugar. Allow the yeast to bloom for about 10 minutes until frothy.
In the bowl of a stand mixer, add yeast, brown sugar, butter, salt, spices, eggs, pumpkin puree and flour. Mix with the paddle attachment until well combined. Switch to the dough hook and knead dough for about 8 to 10 minutes, until it is smooth and soft.
Place the dough in a greased bowl, cover it with linen and allow it to rest for about an hour, or until it has doubled in size.
Divide the dough into 16 pieces. Fill each dough ball with a cube of cream cheese. Wrap each dough ball in kitchen twine, wrapping the twine around the dough ball to create a pumpkin shape. (Take care not to wrap the dough too tightly because it will become larger when it proofs and bakes.) Cover the pumpkin-shaped dough balls loosely and set them aside to proof for between 1 and 1½ hours, or until the dough is puffy and has doubled in size. Create an indentation in the top of each pumpkin where the pecan stem will sit after the rolls have baked.
Preheat oven to 350 degrees. Bake the rolls for 20 to 25 minutes. Remove from oven when baked through and golden brown; brush with melted butter. Allow rolls to cool for a few minutes, then remove the twine and place a pecan stem on top of each. Serve warm.
Watch the recipe video here: