Saturday Morning Cake
This breakfast cereal-infused vanilla cake covered with a creamy milk-infused buttercream frosting can be made with any of your morning favorites.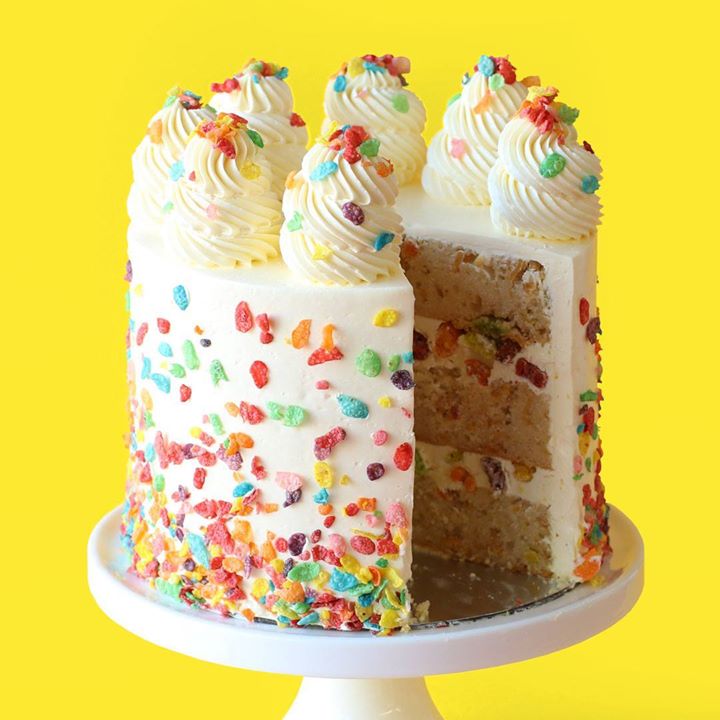 Ingredients
429g all-purpose flour
265g caster (superfine) sugar
3 tsp baking powder
½ tsp salt
125g unsalted butter, softened
375ml of milk
125ml vegetable oil
2 tbsp Greek yogurt (can substitute with sour cream)
1 tsp vanilla extract
2 large eggs
2 cups cornflakes
2 cups fruit loop cereal
2 cups fruity pebbles
Milk Frosting
2 batches Swiss meringue buttercream frosting.
1 cup full cream or skim milk powder
¼ cup boiling water
Instructions
Milk Frosting
To make frosting make a batch of my fluffy Swiss meringue buttercream frosting (not as sweet as American buttercream). To make the milk paste add boiling water to a mixing bowl. Add one teaspoon of milk powder, mix until combined, then add another teaspoon. Repeat this process until you've added half the milk powder. Then add the second half of the milk powder all at once and mix until it forms a smooth paste. It's really important that the water is boiling and not hot tap water.
Add ¼ of the frosting to a large mixing bowl and add milk paste. Use a hand mixer or a stand mixer with a whisk attachment to milk until really well combined. It's going to get a little lumpy. Keep mixing for about 5 minutes on high speed and it will get smooth. Don't forget to scrape down the bowl so that everything mixes in properly.
Once that's smooth add the rest of the frosting and mix until well combined. The frosting will taste like milk! :0)
Cake
Please note: the cake recipe will need to be doubled to achieve the cake in the video. I halved it in the video because most people don't have mixing bowls big enough in their kitchens to make the entire recipe in one go :0) Let's get stuck into the recipe!
Preheat a fan-forced oven to 160C (320F) or 180C (356F) for a conventional oven. Spray an 8" cake tin with oil spray and line the bottom with baking paper.
Start by adding cornflakes into a large jug. Pour milk over it and give it a mix. Let it sit and soak for 10 minutes to get nice and soggy.
In the bowl of a stand mixer fitted with the paddle attachment, add the flour, baking powder, caster sugar and salt. Turn mixer on low speed and allow it to mix for a couple minutes to help everything combine well (alternatively you may do this by sifting the ingredients together). Add the softened butter and mix until it resembles a fine sand like texture.
Add the cereal milk, oil, Greek yogurt, eggs and vanilla extract into the bowl with the dry ingredients and mix on medium speed until no dry ingredients are visible. Scrape down the bowl, add froot loops or favourite cereal and fold in. Please note: If I was making this cake again, I probably wouldn't add the froot loops as they went stale in the cake. If you choose to leave them out, replace them with some colourful funfetti sprinkles.
Fill three 8" cake tins with batter.
Bake for 45 min or until a toothpick inserted comes out clean. Allow the tins to cool for 2 min and then carefully flip the cake tins over on to a cooling wrack to cool completely before using.
Using a large serrated knife, carefully trim the top off each layer of cake to make even and flat layers. Try to aim to get them all the same height. An easy way to do this is to find the lowest height of the cake, place a skewer or toothpick next to that point and mark it. As you go around each side of the cake cutting it, use the marked skewer to make sure each cut is at the same height.
To prepare crumb coat, add a dab of milk frosting onto an 8" cake board or serving plate. Add first cake layer. Use a small offset to add a layer of frosting and smoothen out and layer the frosting on each layer before adding the next layer of cake. Add more frosting around the outside to fill the grooves between each layer. This should just be a neat thin layer of frosting which is aimed at trapping any cake crumbs so that random bits of cake crumbs don't show up on the outside of the cake. Chill for 2 hours or overnight
Add a fresh layer of frosting using a small offset spatula. Use a cake scraper to smoothen out the frosting around the sides. Then smoothen out the top using the cake scraper. Chill.
To finish add fruity pebble cereal around the bottom of the cake. Start off heavy and then add less as you go up the cake to give it an ombre effect.
Fit the end of a piping bag with a Wilton 8B piping tip and frost swirls on top of the cake. Finish off with a sprinkle of fruity pebbles.
Watch the recipe video here:
Today is a good day to eat dessert for breakfast.Full Recipe: taste.md/2F7t5mH🎥: The Scran Line

Posted by Tastemade on Saturday, March 3, 2018