Better-Than-Cinnabon Buns
There are normal cinnamon buns, and then there are frosting-drenched cinnamon-sweet sticky buns that transport you away. These are those buns.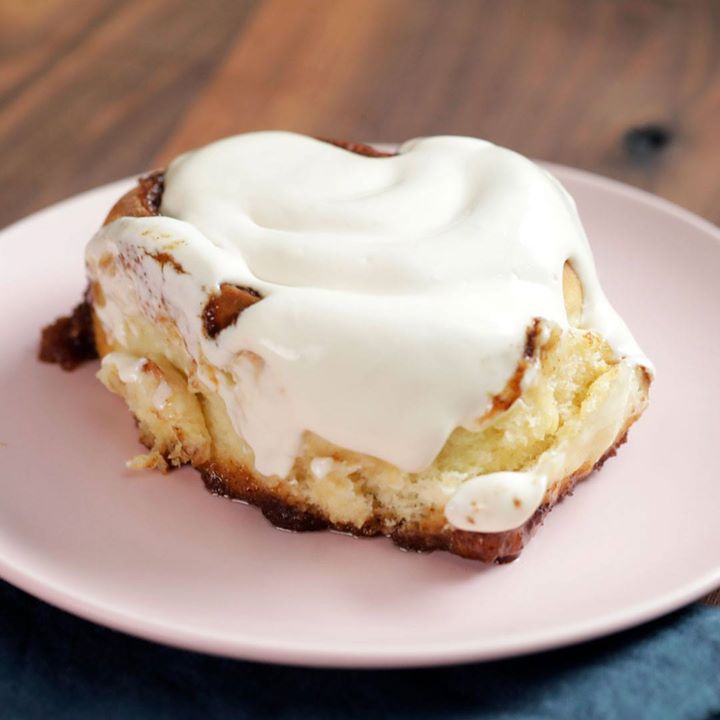 Ingredients
CINNAMON BUNS
ICING
16 ounces cream cheese, melted
½ cup powdered sugar
1 tablespoon vanilla
2 tablespoons orange juice
¼ cup milk
FILLING
1 cup butter, melted
3 cups brown sugar
4 tablespoons cinnamon
2 teaspoons cardamom
1 teaspoon salt
DOUGH
1 cup milk
4 tablespoons sugar, divided
2 teaspoons active dry yeast
3½ cups flour
1½ teaspoons baking powder
1½ teaspoons salt
1 large egg
6 tablespoons butter, melted
Instructions
CINNAMON BUNS
Preheat oven to 375 degrees.
Remove chilled dough from the fridge, and roll out on a floured surface into a rectangle, approximately 16 by 24 inches. Spread filling evenly over dough, leaving about an inch border on all sides. Starting from the bottom, roll dough up into a tight roll. Cut the ends off to create an even log, and divide into 9 portions, approximately 2 inches thick. Place buns in an oiled pan, cover with plastic wrap and refrigerate for an hour or overnight.
Once buns are puffy, bake in the oven until golden, approximately 30 minutes. Pour the glaze over the buns while they are still warm, and serve!
ICING
Add powdered sugar, vanilla and juice to cream cheese and beat until combined. Add milk and continue to mix until a thin (but thick enough to cover the buns) glaze is reached.
FILLING
In a medium-size bowl, mix butter, brown sugar, cinnamon, cardamom and salt. Set aside.
DOUGH
Warm milk in a small pot over medium heat until it reaches 110 degrees. Add 2 tablespoons of sugar and the yeast, and whisk to dissolve. Let sit until it's slightly foamy and starting to bubble, about 2 to 5 minutes.
In a stand mixer fitted with the paddle attachment, combine flour, the remaining 2 tablespoons sugar, the baking powder and the salt. Mix until combined.
Add milk, yeast mixture and the egg, and mix until just combined. Add melted butter and continue to stir until a shaggy dough forms. Scrape the bowl and switch to the dough hook attachment. Knead for 4 to 5 minutes until dough is shiny.
Remove dough and place in a well-oiled medium-size bowl. Cover with plastic wrap and let proof until dough has doubled in size, approximately 1½ hours. Punch down dough to remove air, and chill in the fridge for an hour to overnight.
Watch the recipe video here:
Better-Than-Cinnabon BunsDare we say it, dare we?! There's only one way to find out…Save the recipe: taste.md/2gOEr7T

Posted by Tastemade on Saturday, September 9, 2017