Cookies and Cream Stripe Cake
A different way to serve a cake. Rolled up and when sliced a beautiful stripped pattern inside! Making sheet cakes is easier especially when it just needs a quick roll and your favourite icing.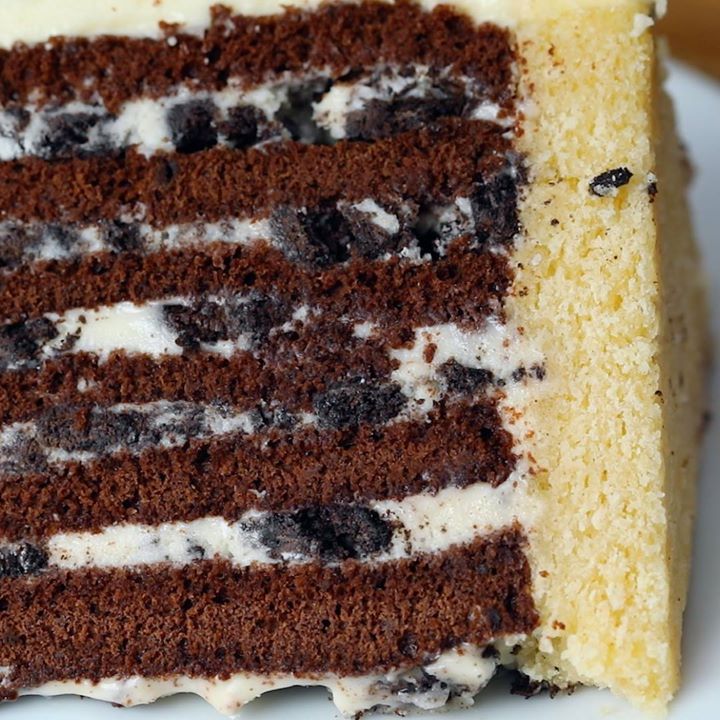 Ingredients
1½ cup (3.5 oz) all-purpose flour
½ cup (.75 oz) dark or dutch processed cocoa powder
1 teaspoon baking powder
1 teaspoon baking soda
1 teaspoon kosher salt
8 large eggs, room temperature
1½ cup granulated sugar
1 teaspoon vanilla extract
½ cup unsalted butter, melted still hot
4 ounces dark chocolate, finely chopped
6 cups Butttercream
1 cup crushed chocolate cookies
1 6" vanilla cake cut in half horizontally
Instructions
Pre-heat oven to 180ºC (350ºF). In a large bowl, whisk together sugar and eggs until pale and fluffy. Set aside.
Add chocolate to melted butter and stir to melt chocolate. Add vanilla.
Fold into egg mixture until combined.
Sift all of the dry ingredients and fold in gently being careful not to break all the bubbles.
Divide onto two parchment lined greased sheet pans and spread flat. Cook for 7-8 minutes until it springs back when touched.
While still warm, roll with the parchment but carefully. Set aside to cool for about 30-40 minutes.
Unroll each cake gently, cut i half lengthways to create 4 strips. Spread a thin layer of buttercream and then sprinkle with crushed cookies. Roll one strip and then put onto the next and continue to roll to form a large spiral.
Place one half of vanilla cake on a serving platter. Top with a thin layer of buttercream, giant swirl, another thin layer of buttercream then second piece of vanilla cake.
Cover entire cake in buttercream and sprinkle crushed cookies on the edge of the top.
Let set and enjoy!
Watch the recipe video here:
Cookies and Cream Stripe Cake

Posted by Twisted on Thursday, January 25, 2018