Giant Apple Pie Cinnamon Roll
Get a pot of coffee on, this giant apple pie cinnamon roll with cinnamon icing is incredible. Perfect for dessert to end a lavish meal or simple for coffee time!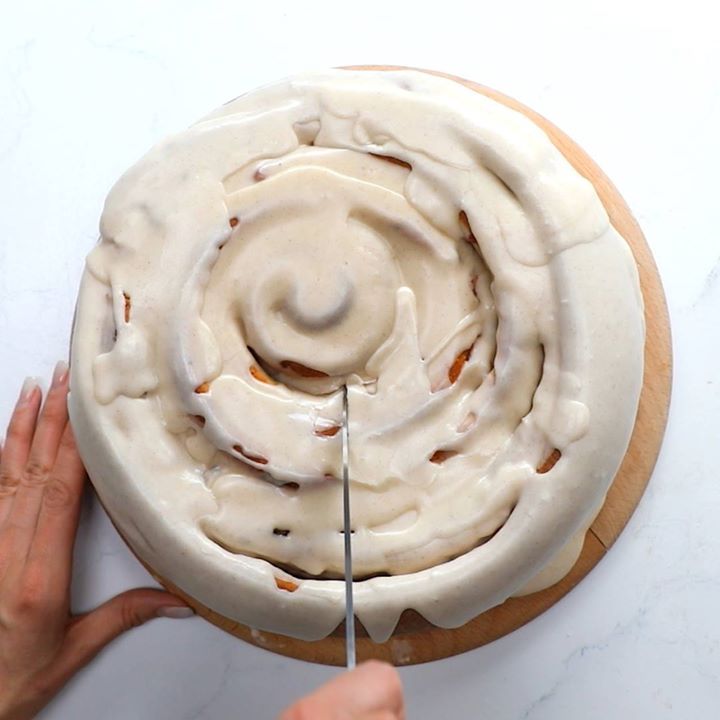 Ingredients
6 cups finely chopped cooking apples
2 tbsp unsalted butter
2 tsp cinnamon powder
½cup granulated sugar
¼ cup brown sugar
½ tsp salt
Dough:
1 cup (240ml) milk, warmed
½ cup (135g) granulated sugar
2 tablespoons active dry yeast (2 standard size packets)
½ cup (115g) unsalted butter, softened to room temperature and cut into 4 pieces
2 large eggs
½ teaspoon salt
4 and ½ cups (562g) all-purpose flour, plus more for dusting/rolling
Icing:
2 cups Icing sugar, sifted
2 tbsp melted butter
3 tbsp milk
2 tsp cinnamon
1 tsp vanilla
Instructions
In a large saucepan over medium heat melt butter. Add apples, cinnamon and sugars. Cover and cook until softened and juices have reduced. Cool completely
In a large bowl, add warm milk, sugar, and yeast. Let it sit for about 5 minutes until frothy
Add softened butter, salt, eggs, and flour to the bowl and mix well.
Place dough into an oiled bowl, cover and let rise in a warm place about 1 hour or until the dough has doubled in size.
Pre-heat oven to 180ºC (350ºF).
Roll the dough out on a lightly floured surface, until it is approx 16 inches long by 12 inches wide. It should be approx ¼ inch thick.
Spread apple mixture evenly over dough. Cut into four strips. Roll each strip into each other to create a giant spiral.
Place carefully into a large buttered skillet. Cover and let rest for 30 minutes.
Bake for 40 minutes. Cover with foil if browning too much. Then bake for another 40 minutes. Let cool for 10 minutes. Remove from skillet.
Make icing and proud over entire bun evenly. Slice and serve.
Enjoy!
Watch the recipe video here:
Giant Apple Pie Cinnamon Roll

Posted by Twisted on Friday, January 26, 2018