Strawberry Surprise Cake
Since this has real strawberries inside, we get to have a second slice, right?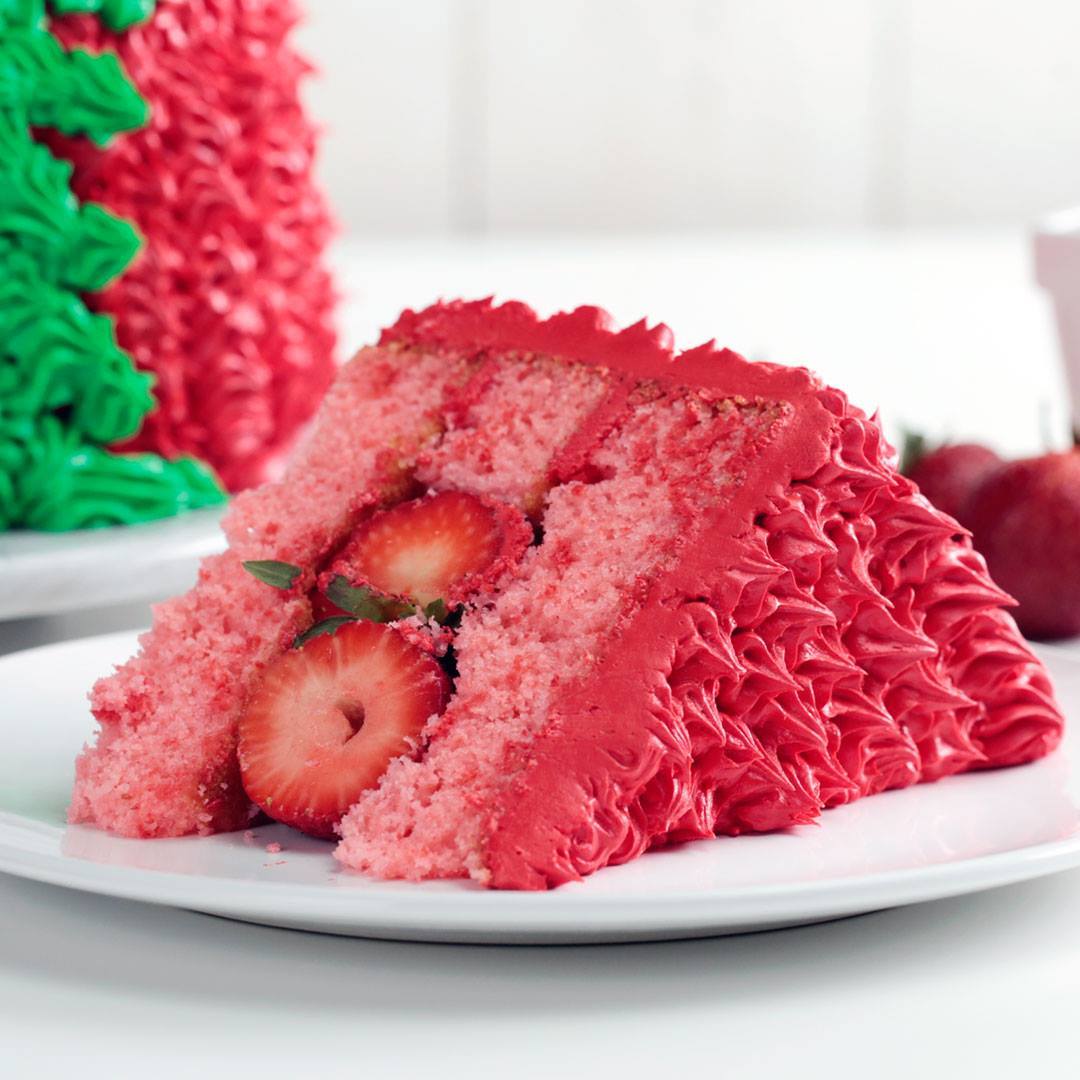 Ingredients
For the pound cake:
4 cups all-purpose flour
4 teaspoons baking powder
1 teaspoon salt
3 sticks butter, softened at room temperature
2 cups sugar
8 large eggs, at room temperature
1 cup whole milk
¼ cup strawberry purée
2 teaspoons vanilla
For decorating:
1 cup vanilla buttercream
12 strawberries
3 cups red buttercream
½ cup green buttercream
Instructions
Make the pound cake:
Preheat the oven to 350 degrees. Line three 6-inch round pans and three 6 by 6-inch square pans with baking spray and parchment.
In a large bowl, sift flour, baking powder and salt together. Set aside. In a separate large bowl, cream butter and sugar with a hand mixer until light and fluffy. Add eggs one at a time. Alternate between adding flour mixture and milk until fully incorporated. Stir in vanilla and strawberry purée and divide batter evenly between all cake pans. Bake for 20 to 25 minutes until a cake tester comes out clean. Allow cakes to cool completely before assembly.
Assemble the cake:
Begin by placing one square cake on a large platter at an angle to resemble a diamond. Cut a cake round in half and place on top of the diamond to create a heart. Line the heart with vanilla buttercream, and repeat this by stacking two more squares and rounds on top of each other. Using a large round cookie cutter, cut through one layer of the heart. Remove the cake and fill with strawberries. Top with remaining cakes and cover with a thin layer of red buttercream. Place remaining red buttercream in a piping bag with a small star tip. Cover the entire cake with dots to resemble a strawberry. Top with green buttercream to resemble the greens of a strawberry. Slice and serve to reveal hidden strawberries!
Watch the recipe video here:
Oh, you love strawberries? Prove it.Taste for Yourself: https://taste.md/2Ljri0t

Posted by Tastemade on Sunday, June 3, 2018