Potato Chip Pie
This chocolate pie is all that and a bag of chips.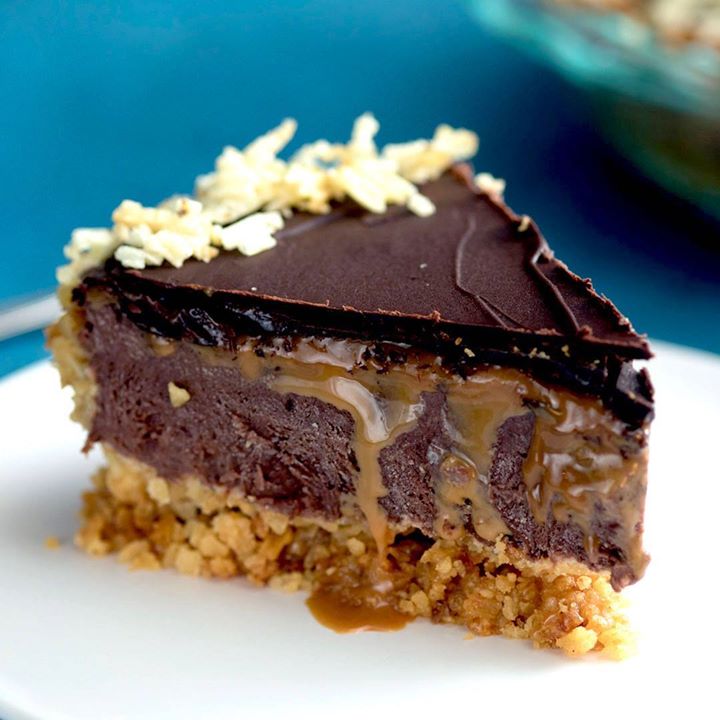 Ingredients
For the crust:
1 (16-ounce) bag Ruffles potato chips
¼ cup all-purpose flour
6 tablespoons butter, melted
For the chocolate filling:
¼ cup heavy cream
1½ cups dark chocolate chips
2 large eggs
1 teaspoon vanilla
1 teaspoon salt
For the chocolate ganache topping:
2 cups dark chocolate chips
1 cup heavy cream
2 tablespoons coconut oil
24 crushed Ruffles potato chips, for decorating
1 tablespoon large flake salt, for decorating
Instructions
Make the crust:
Preheat the oven to 350 degrees. In the bowl of a food processor, pulse potato chips until finely ground. Add flour and butter and mix to combine. Press into a pie plate and bake for 10 to 12 minutes until set and golden. Make the filling while the crust cools.
Make the chocolate filling: In a small saucepan on medium-low heat, combine cream and chocolate until smooth. Add eggs and vanilla and cook until mixture thickens. Add salt and remove from heat. Set aside to cool.
For the salted caramel:
In a medium saucepan, combine sugar and cold water. Cook on medium-high heat without stirring until the sugar becomes golden, approximately 8 minutes. Remove from heat and carefully stir in heavy cream, being cautious of splattering sugar. Stir in butter and salt.
Make the chocolate ganache:
Set chocolate chips in a medium-sized bowl, and heat the cream to a near boil. Pour cream over chocolate and whisk to combine. Add coconut oil, and set aside to cool.
Assemble the pie:
Pour chocolate filling into the baked chip crust, and bake for 20 to 22 minutes until set. Remove from the oven and cool for up to 2 hours. Top chocolate filling with approximately 1 cup of the salted caramel. Set in fridge to firm. Top caramel layer with chocolate ganache, and sprinkle with crushed chips and flake salt. Pie will keep up to 5 days refrigerated.
Watch the recipe video here:
https://www.facebook.com/tastemade/videos/1772646766155816/