Croque Monsieur
Croque Monsieur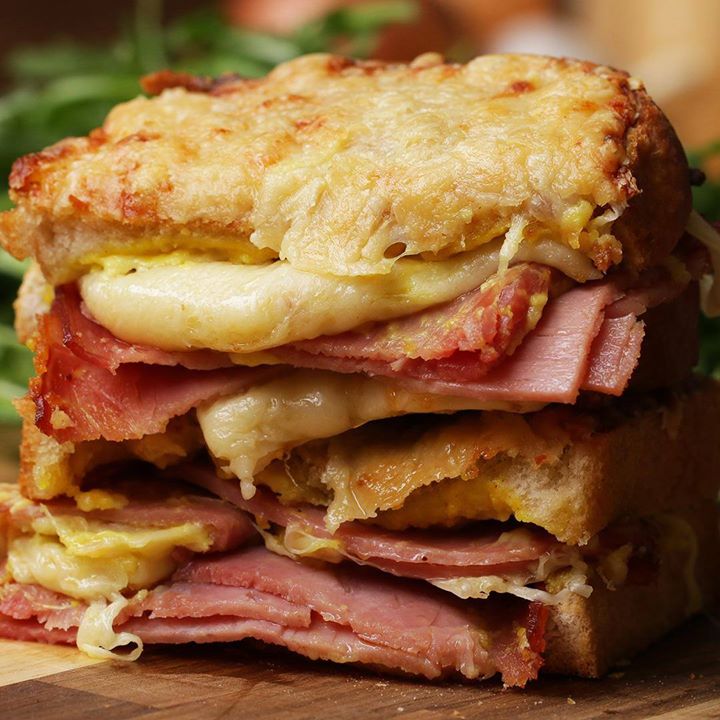 Ingredients
BÉCHAMEL SAUCE
250 mL (1 cup) milk
150 mL (⅔ cup) double cream
1 onion, roughly chopped
2 cloves garlic, crushed
2 bay leaves
2 tablespoons butter
25 g (¼ cup) flour
1 teaspoon dijon mustard
1 pinch ground nutmeg
4 slices white bread
2 tablespoons butter, melted
dijon mustard, to spread
100 g (1 cup) grated gruyere cheese
6 slices ham
Instructions
In a saucepan, combine the milk, double cream, onion, garlic and bay leaves and heat over a medium heat until it just starts to boil.
Take off the heat and leave to infuse for 10 minutes.
Pour the milk mixture through a sieve into a jug.
Then, in a saucepan, gently melt the butter and add the flour. Stir together over a low-medium heat for 1 -2 minutes.
Gradually add the milk in three parts whilst continually stirring.
Continue to stir and bring the sauce to a gentle boil.
Take off the heat and stir in the dijon mustard and ground nutmeg.
Next, brush the two slices of bread with the melted butter and grill for about 5 minutes until golden brown.
Take out of the grill and preheat the heat the oven to 180°C (350°F).
Flip the slices of bread over and spread one slice with a thin layer of dijon mustard, followed by another layer of the béchamel sauce, followed by the cheese and then the ham.
Place the other slice of bread on top and coat with more béchamel sauce and cheese.
Bake for about 15 minutes, until the cheese is bubbling.
Serve with fresh salad!
Enjoy!
Watch the recipe video here:
How to make the perfect Croque Monsieur ?FULL RECIPE: https://tasty.co/recipe/croque-monsieur

Posted by Proper Tasty on Thursday, December 21, 2017