Apple Pie Cheesecake Taquitos
No time to make a full apple pie or a cheese cake? We've got you covered. These easy apple pie cheese cake taquitos combine the two and are made in a flash. No need for pie crust here!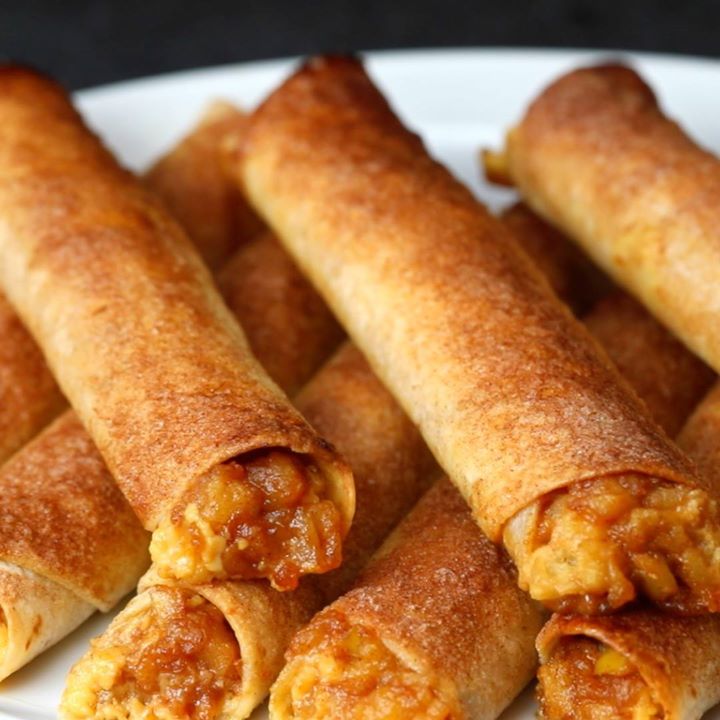 Ingredients
2 apples peeled cored and diced
3 tbsp brown sugar
1 tsp cinnamon
¾ cup cream cheese
¼ cup caramel
½ tsp sea salt
10 tortillas 6-inch
2 tbsp melted butter
2 tbsp granulated sugar
1 tsp cinnamon
Instructions
Pre-heat oven to 200ºC.
In a sauté pan, heat butter over medium heat. Add apples, brown sugar and cinnamon. Cover and cook until just softened. Set aside to cool.
In a bowl mix together cream cheese, caramel sauce and salt.
Lay out tortillas and spread a couple tbsp of cream cheese mixture on one side. Top with apples. Roll very tightly into a log shape. Place seam side down on a baking sheet.
Mix together cinnamon and sugar. Brush each roll with melted butter and sprinkle generously with cinnamon sugar.
Bake for 15-20 minutes until crispy.
Enjoy!
Watch the recipe video here:
Apple Pie Cheesecake Taquitos

Posted by Twisted on Monday, February 5, 2018