Loaded Taco Fries
Who doesn't love a taco and fries? Why not top fries with our favourite taco flavours and fillings! YES! These are just that and they're delicious. Share with a group of friends..or not. Your call.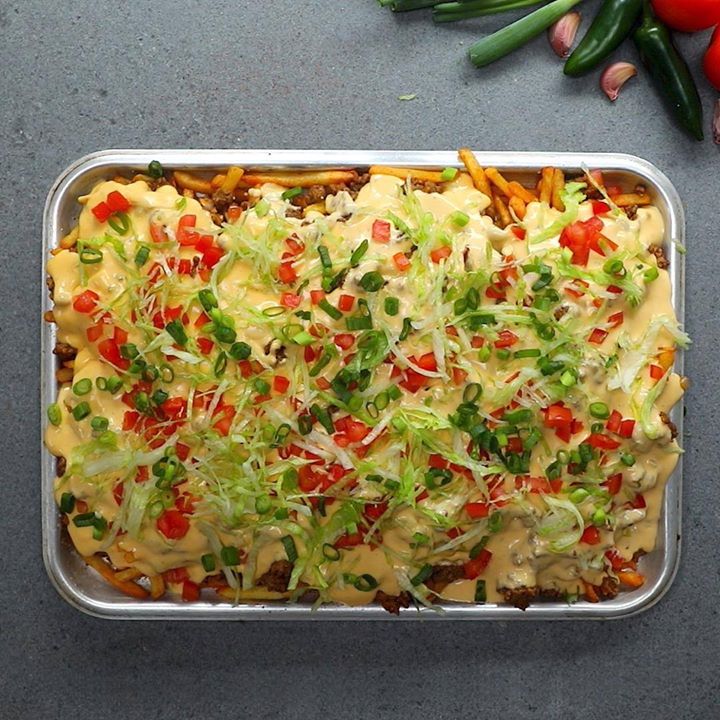 Ingredients
750g beef mince
1 onion, diced
2 tsp oil
2 cloves garlic, minced
2 tbsp taco seasoning
1 can evaporated milk
2 cups grated cheddar cheese
2 tbsp cornflour
¼ cup diced pickled jalapeños
1 bag of fries, oven baked
diced tomatoes
shredded lettuce
chopped spring onions
Instructions
Heat oil in a large non-stick pan over medium-high heat. Add beef mince, breaking apart well. Cook until all the juices have come out and the beef begins to fry.
Add the onions and garlic and cook until aromatic and onions are slightly softened. Add 2 tbsp taco seasoning and cook for two minutes. Keep warm.
In a pot, add evaporated milk. Toss together cornstarch and grated cheese. Add to evaporated milk and stir continuously until melted and thickened. Add pickled jalapeños and stir to combine.
Toss fried with 2 tbsp taco seasoning to coat. Spoon beef mince over the fries. Pour over cheese sauce. Sprinkle chopped tomatoes, shredded lettuce and spring onions.
Enjoy!
Watch the recipe video here:
Loaded Taco Fries

Posted by Twisted on Thursday, April 12, 2018