Chicken Parm Roll-Ups
Meet your new favorite way to eat chicken parm.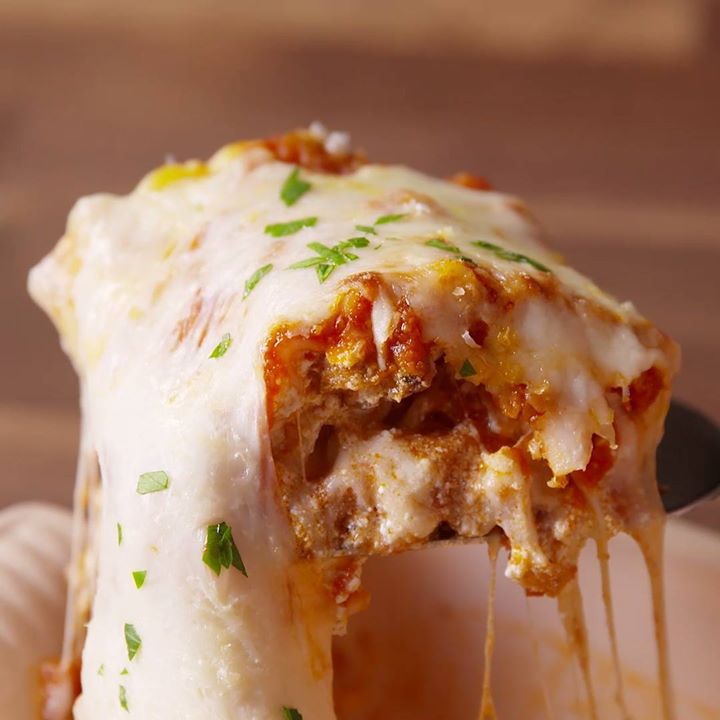 Ingredients
1 c. all-purpose flour
3 large eggs, divided
2 c. Italian or panko breadcrumbs
1 lb. boneless skinless chicken breasts, pounded thin
kosher salt
Freshly ground black pepper
2 tbsp. extra-virgin olive oil
2 c. marinara sauce
8 cooked lasagna noodles
container ricotta
¾ tsp. garlic powder
1 c. shredded mozzarella
1 c. shredded Parmesan
1 tbsp. parsley, for garnish
Instructions
Preheat oven to 350 degrees F. Lay cooked lasagna noodles flat, in an even layer, on a greased baking sheet.
Bread chicken. Season both sides of chicken with salt and pepper. Put flour and breadcrumbs in two separate medium bowls. Whisk together two eggs in a third separate bowl. Working in batches, dredge chicken in the flour then dip in eggs. Toss in breadcrumbs for the final dredge.
In a large skillet over medium-high heat, heat oil. Add chicken and cook until golden-brown and cooked through, about 6 minutes per side. Transfer to a cutting board and cut into small bite-size pieces, about ½" cubes.
Meanwhile, make filling. Whisk together ricotta, remaining egg, garlic powder and ½ cup Parmesan. Spread ricotta mixture onto each lasagna noodle, then spoon marinara sauce over the ricotta. Top with cooked chicken and mozzarella then roll up tightly.
In a large deep baking dish, spoon a layer of marinara on bottom of dish. Add the roll-ups and spoon more sauce onto each roll-up. Sprinkle more mozzarella and Parmesan over each roll up. Bake until bubbly and melted, about 20 minutes
Let cool 10 minutes, then garnish with parsley.
Watch the recipe video here: