Baileys French Toast
Baileys French Toast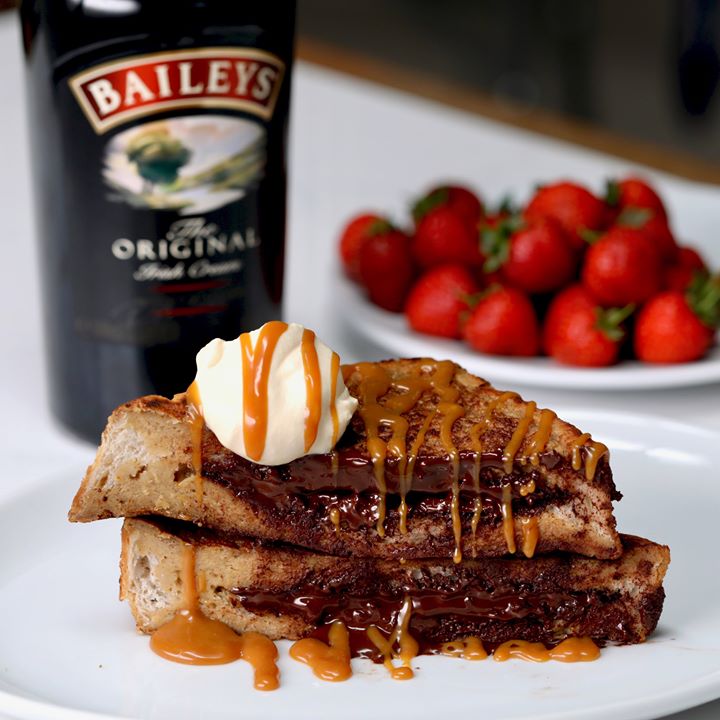 Ingredients
Baileys Chocolate Stuffed French Toast
TOM
Report Advertisement
What You'll Need:
200ml Baileys Original
1 tbsp granulated sugar
10ml vanilla essence
1 tsp cinnamon powder
3 eggs
2 1½- inch sliced white bread
Dark Chocolate
Butter
Whipped cream:
25ml Baileys Original
⅔ cup whipping cream
2 tbsp caramel plus extra or drizzling
Instructions
Cut a slit in the side of each slice of bread being careful not to go all the way through. Using your fingers press inside slightly to create a pocket. Place chocolate pieces inside each slice of bread Place in a glass dish and set aside.
In a pouring jug mix together eggs, Baileys, vanilla, cinnamon, and sugar until combined. Pour the egg mixture over both sandwiches and let soak. Flipping to soak both sides evenly.
In a non-stick skillet melt butter over medium-low heat. Add one sandwich at a time and cook on both sides until golden brown, about 2-3 minutes each side. Be sure to control the heat so it doesn't burn.
Meanwhile, in a medium bowl add the 25ml Baileys, whipping cream and caramel until stiff peaks are formed.
Serve french toast with whipped cream and a drizzle of caramel.
Watch the recipe video here:
Baileys French Toast

Posted by Twisted on Thursday, September 28, 2017