Celery Salad with Dates, Almonds, and Parmesan
Sweet from dates, sour from lemon, bitter from celery, and salty from Parmesan, this humble salad manages to get all taste buds firing at once.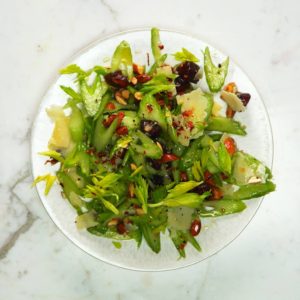 Ingredients
½ cup raw almonds
8 celery stalks, thinly sliced on a diagonal, leaves separated
6 dates, pitted, coarsely chopped
3 tablespoons fresh lemon juice
Kosher salt and freshly ground black pepper
2 ounces Parmesan, shaved
¼ cup extra-virgin olive oil
Crushed red pepper flakes
Instructions
Preheat oven to 350°. Spread out almonds on a small rimmed baking sheet; toast, stirring occasionally, until golden brown, 8–10 minutes. Let cool; coarsely chop.
Toss almonds, celery, celery leaves, dates, and lemon juice in a medium bowl; season with salt and pepper. Add Parmesan and oil and toss gently; season with red pepper flakes.
Watch the recipe video here: