Chicken Satay Skewers
Chicken Satay Skewers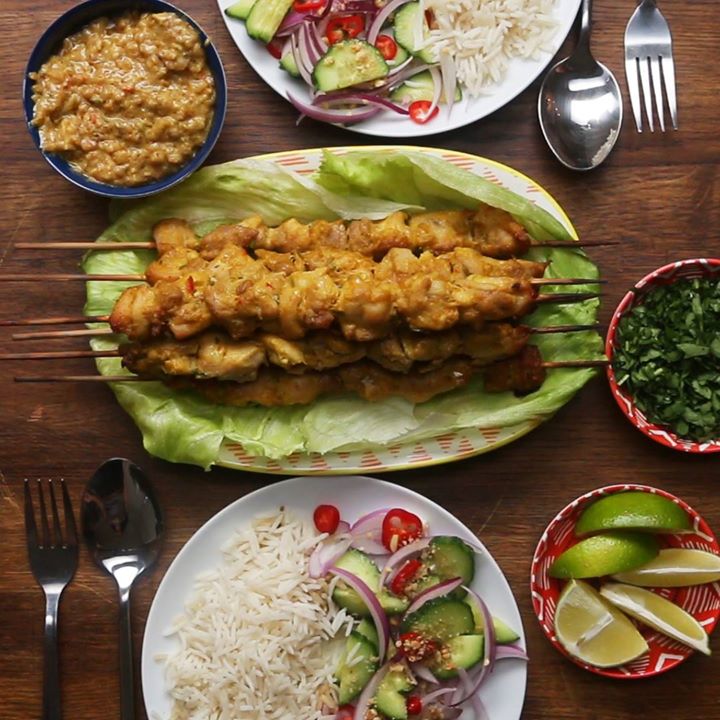 Ingredients
MARINADE
150 g (⅔ cup) peanut butter
150 mL (⅔ cup) coconut milk
4 spring onions, roughly chopped
10 cloves garlic, peeled
10 g ginger, peeled
2 fresh red chillis, roughly chopped
1 teaspoon curry powder
1 teaspoon cumin
1 teaspoon tumeric
1 teaspoon salt
2 tablespoons soy sauce
1 lime, juiced
8 skinless chicken thighs, diced
SAUCE
50 g (⅓ cup) peanut, crushed
100 mL (½ cup) coconut milk
Instructions
In a food processor, blend all marinade ingredients into a smooth paste.
Reserve half of the marinade.
Combine the other half with the chicken thigh meat, cover and chill for 2 hours or overnight.
Preheat the oven to 220˚C (425˚F).
Skewer the marinated chicken onto bamboo skewers, then place them over a baking tray lined with parchment paper, making sure there is space underneath the chicken to help distribute the heat more evenly.
Bake the chicken skewers for about 15-20 minutes, until slightly dark brown on the edges and cooked throughout.
With no oil in the pan, toast the crushed peanuts on low to medium heat, until the peanuts turn golden brown.
Add in the reserved marinade and coconut milk. Stir and cook until simmering.
Serve.
Enjoy!
Watch the recipe video here:
Chicken satay skewers for your next get together ??FULL RECIPE: http://bit.ly/2fEUVz3

Posted by Proper Tasty on Tuesday, March 20, 2018