Kinder Bueno Trifle
Chocolate and hazelnut lovers will lose it for this trifle made with condensed milk custard, biscuits and topped with Kinder Buenos.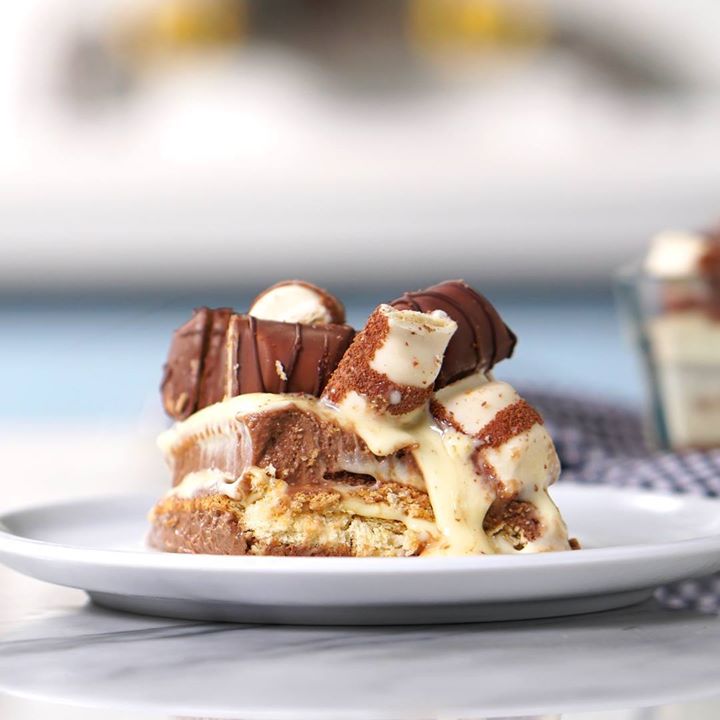 Ingredients
1 can sweetened condensed milk
½ cup milk
3 egg yolks
3 cups whipped cream, divided
3½ ounces milk chocolate, melted
½ cup hazelnut cream
5 ounces biscuits/cookies
½ cup whole milk
White and milk chocolate Kinder Bueno for decorating
Instructions
In a saucepan, add the condensed milk and milk. Strain the 3 egg yolks over the mixture. Cook over low heat, stirring constantly, until thick and creamy. Set aside to cool.
Add 2 cups of the whipped cream to the condensed milk mixture and stir gently with a whisk. Set aside.
Mix the melted chocolate and the hazelnut cream, and then gently add the remaining cup of whipped cream. Set aside.
Dip the biscuits in the milk and place in a baking dish, alternating with layers of the chocolate-hazelnut cream, biscuits, and condensed milk mixture.
Top with the Kinder Bueno bonbon pieces.
Refrigerate for at least 2 hours and serve.
Watch the recipe video here:
This dessert is guaranteed to satisfy any sweet tooth.Full Recipe: taste.md/2Bf4rxD?: Tastemade Brasil

Posted by Tastemade on Thursday, February 15, 2018