Crispy Chicken Stoganoff Pasta
It's not often we feature a Russian dish on Twisted, but the (admittedly rather bastardised) stroganoff is an exception. Internationally adored this simple classic is everything we love - creamy, delicious comfort food. Served with buttery pappardelle this is an ideal midweek sumptuous dinner. Forwards, Russia!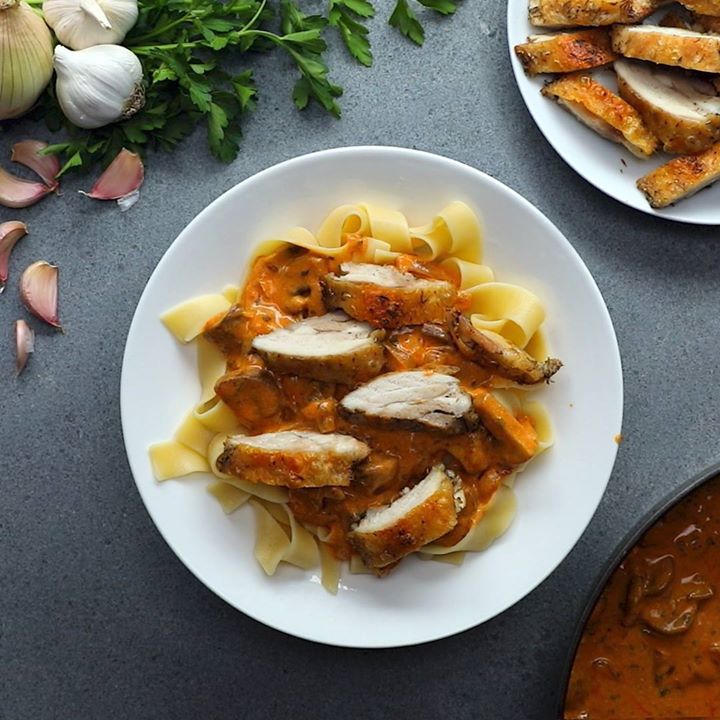 Ingredients
4 chicken thighs, deboned
1 tbsp sea salt
1 tsp black pepper
1 tbsp thyme
2 tbsp oil
1 large white onion, sliced
3 garlic cloves, finely diced
5 - 6 large chestnut mushrooms, sliced
1 tbsp paprika
1 tsp salt
1 cup chicken stock
1 small glass wine
½ cup sour cream
1 tbsp dijon mustard
½ cup chopped parsley.
Papperdelle
Instructions
Preheat the oven to 200°C/400°F.
Rub the salt, pepper, thyme and oil into the chicken thighs and fry them, skin side down in a wide heavy bottomed sautee pan. Turn them over after around 3 - 4 minutes.
Remove to an oven tray and bake for around 30 minutes until crispy and cooked through.
Meanwhile, fry the onion in a little butter until soft, roughly 5 minutes. Add the garlic and cook for another minute before adding the mushrooms and frying for another 5 - 10 minutes, until they've softened and released some moisture.
Add the paprika and stir everything together then pour over the chicken stock and white wine and stir. Bring to a simmer and stir in the sour cream and parsley. Allow to thicken for a bit while you cook your pasta and cut the chicken against the grain into slices.
Butter the pasta and pour over the sauce then top with the chicken.
Watch the recipe video here: