Cheesy Swedish Meatball Pasta Bake
CHEESY SWEDISH MEATBALL PASTA BAKE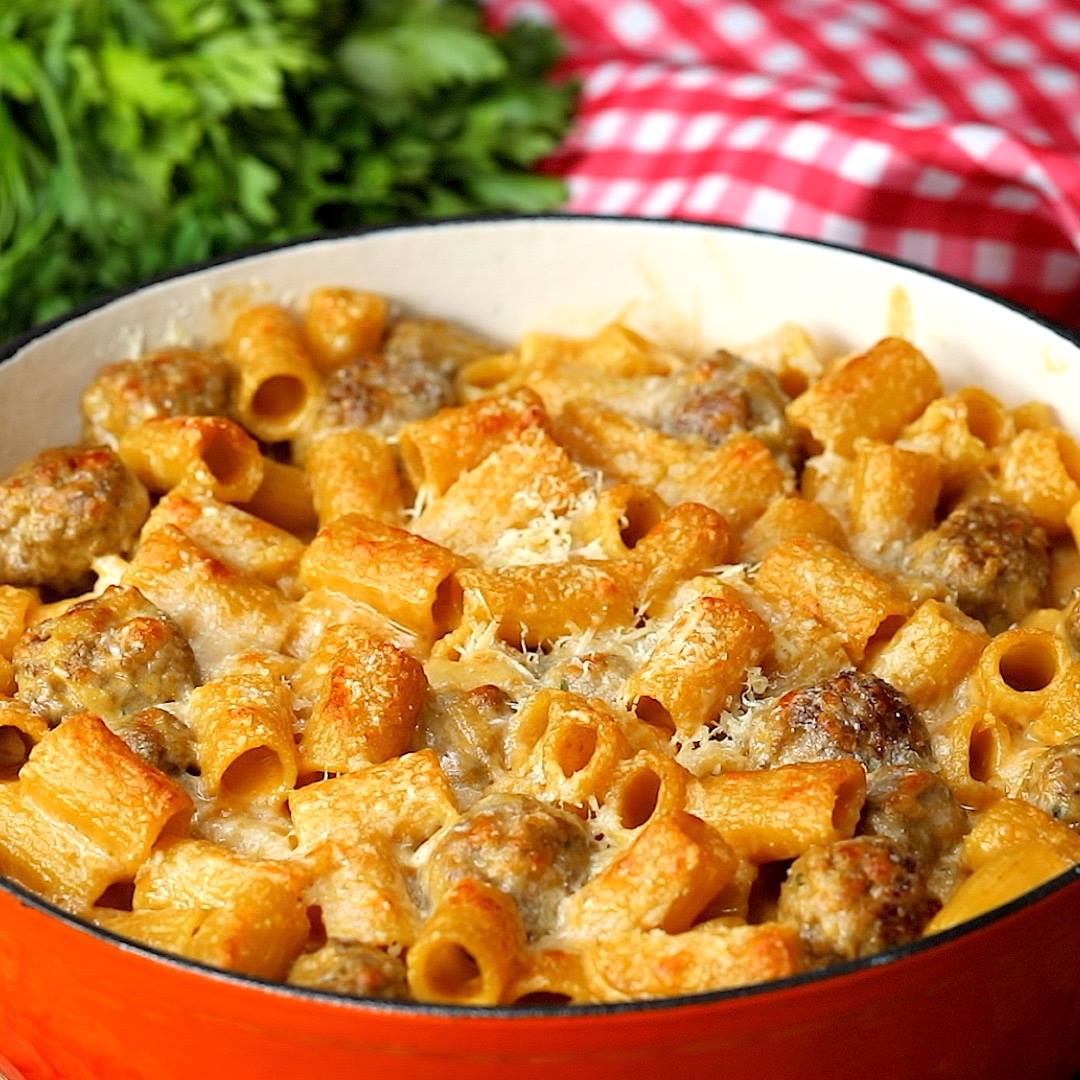 Ingredients
100g breadcrumbs
100ml milk
1 tbsp butter
1 large egg
1 large clove garlic, crushed
½ tbsp parsley
1 tbsp oil
½ tsp salt
½ tsp black pepper
½ of an onion , finely chopped
450g beef mince
300g pork mince
2 onions, finely sliced
50g butter
50g flour
1 litre beef stock
200ml double cream
200g mild cheddar
500g rigatone, cooked to packet instructions
1 large ball mozzarella, torn
100g parmesan, grated
Instructions
Preheat the oven to 180°C/360°F.
In a large bowl soak the breadcrumbs in milk. Add the butter, egg, garlic, salt, pepper, grated onion and parsley. Stir everything together, then add the beef and pork and mix thoroughly with your hands - the mixture should be a little wet but not sloppy. Roll into meatballs weighing roughly 30g (around the size of a walnut).
Fry them in a little oil until browned on all sides then remove from the pan.
Add a little oil and cook the onion until soft, then add the butter and cook until foaming. Stir through the flour and cook out - roughly a minute.
Gradually pour in the beef stock, making sure each addition is incorporated before adding the next splash. Pour in the cream and season to taste, then add the meatballs and bring to a gentle simmer to cook them through. Add the grated cheddar and stir together on a really low heat, then add the pasta and stir through the cheesy sauce.
Add to a baking dish with the torn mozzarella and scatter with parmesan. Bake for around 30 minutes, or until the top has browned nicely.
Watch the recipe video here: