Garlic Bread Pasta Pie
When your favourite bread, garlic bread of course crusts your favourite pasta and is covered in cheese, we call that heaven. Garlic Bread Pasta pie is delicious and needs to be made at least once a month.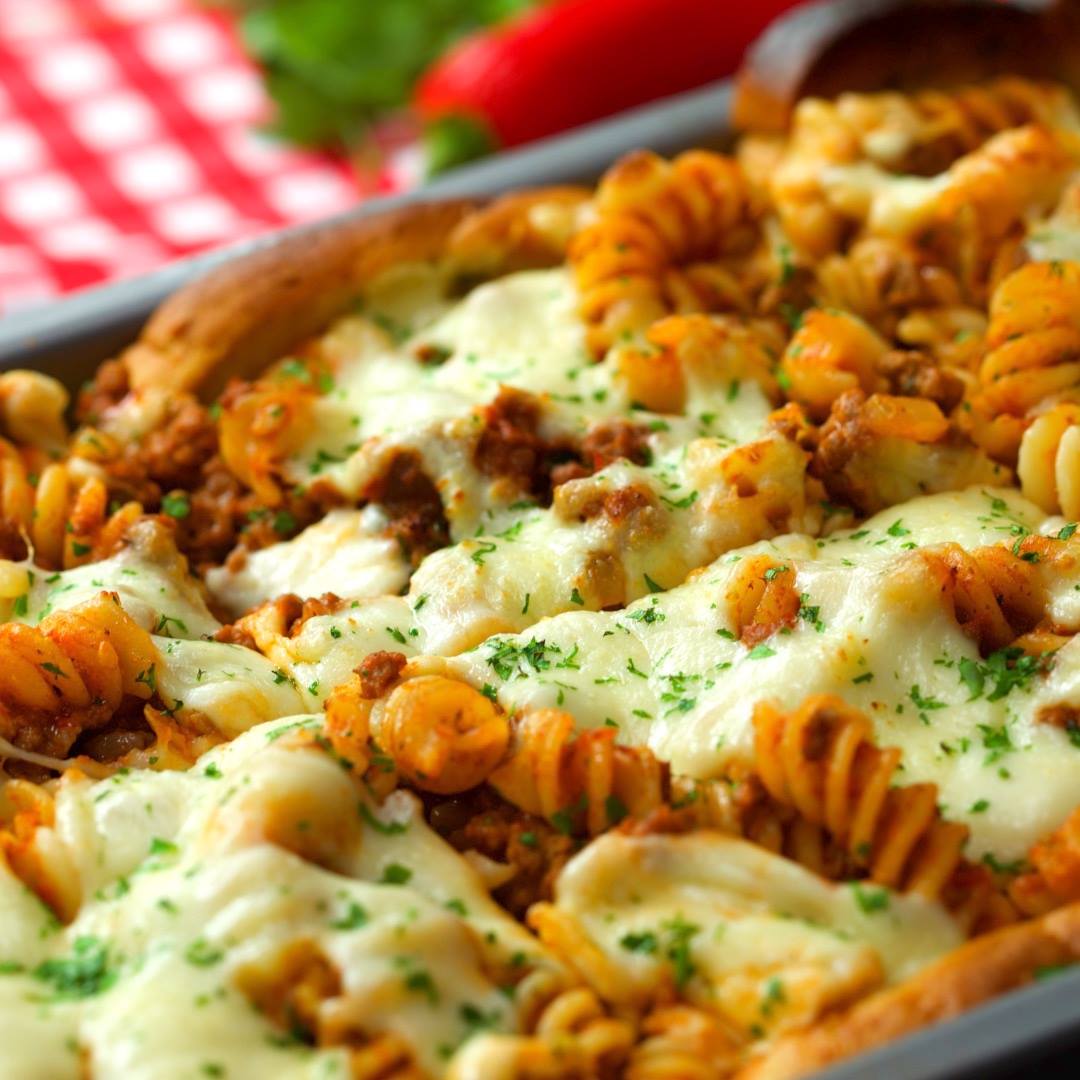 Ingredients
7-8 Slices white bread
½ cup garlic butter
1 tbsp oil
500g beef mince
1 white onion, finely diced
2 cloves garlic minced
½ tsp oregano
½ tsp Chili flakes
¾ cup Passata
½ cup Cream
Grated mozzarella
Fresh mozzarella for the top
500g fusilli pasta, cooked
½ cup pasta water
Parsley
Instructions
Brush both sides of bread with garlic butter and press into a deep rectangular baking dish. Cut remaining bread to fit into corners to form a crust. Place another smaller baking dish inside and bake for 15-20 minutes until golden brown.
Meanwhile, make quick ragu. In a pan over medium-high heat, add oil and mince. Cook until browned. Add onions and garlic. Fry until softened. Add spices and passata. Bring to simmer, add cream and stir through. Cover and cook simmering for 20- 30 minutes. Season with salt and pepper if needed.
Add pasta and stir to coat. Add pasta water to thin out sauce.
Place grated mozzarella on top of the bread base. Bake for 10 minutes to melt. Fill the fish with pasta. Top with fresh mozzarella, grill for 5 minutes.
Sprinkle with parsley, enjoy!
Watch the recipe video here:
Garlic Bread Pasta Pie

Posted by Twisted on Tuesday, August 7, 2018