Muffin Tin Cheeseburgers
Pressing the bun into a muffin tin creates the perfect vessel to stuff with all of our favourite burger flavours and toppings. We've added bacon and cheese to these but chose your favourite toppings and layer them up!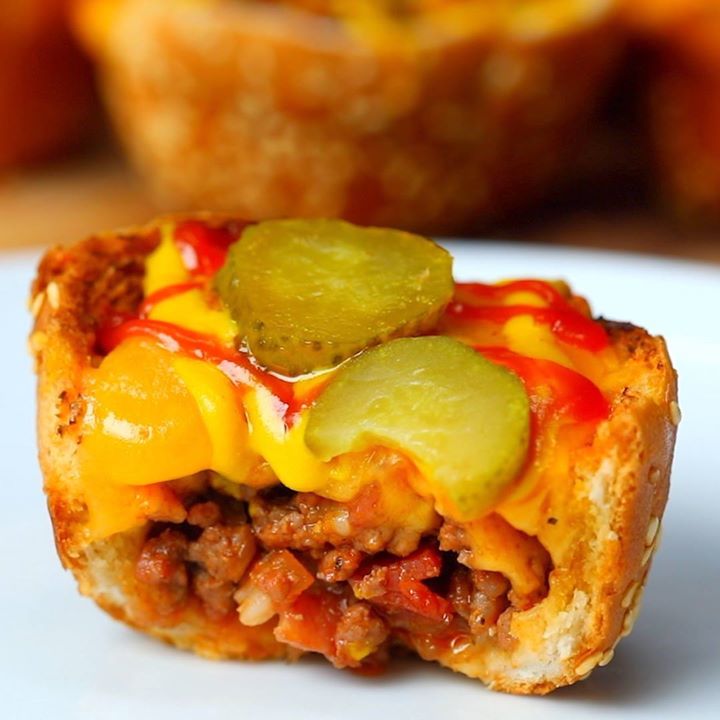 Ingredients
500g beef mince
½ onion diced
8 slices of bacon, cut into small pieces
1 tbsp oil
1 tbsp Worcestershire sauce
2 tbsp ketchup
1 tsp salt
½ tsp pepper
½ tsp garlic powder
12 top sesame burger buns
12 squares cheddar
Ketchup
Mustard
Pickles
Instructions
In a large pan, heat oil over medium heat. Add onions and bacon and cook until softened and bacon is just crispy. Add garlic add mince and cook, breaking apart with a spoon.
Cook until liquid is reduce and beef is browned. Add Worcestershire sauce, ketchup, salt, pepper and garlic powder and mix until coated. Remove from heat.
Press sesame buns into a greased muffin tin to create a little bowl.
Add one heaping tablespoon into each muffin tin. Top with a piece of cheese. Bake in a 180ºF oven for 20 minutes until bread is golden brown and cheese is melted.
Top each with choice of condiments, mustard, ketchup and pickles.
Watch the recipe video here:
Muffin Tin Cheeseburgers

Posted by Twisted on Sunday, March 4, 2018