Cheesy Swedish Meatball Sliders
CHEESY SWEDISH MEATBALL SLIDERS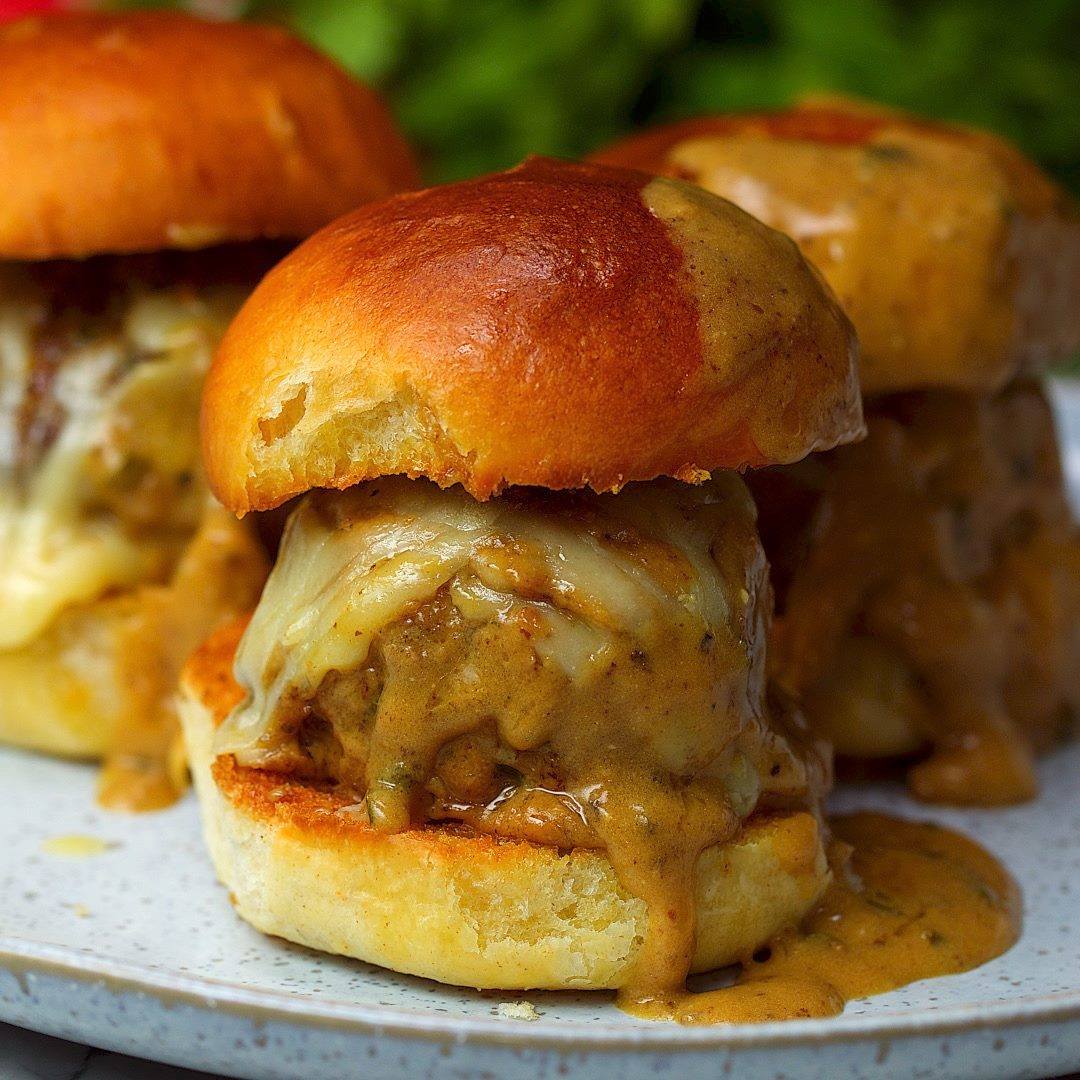 Ingredients
400g beef mince
400g pork mince
1 tsp nutmeg
1 tsp allspice
1 tsp black pepper
1 tsp salt
2 tbsp chopped parsley
2 tbsp sour cream
1 cup breadcrumbs
1 egg
1 clove garlic, grated
3 tbsp flour
2 tbsp butter
1 tbsp olive oil
500ml chicken stock
½ cup sour cream
2 tbsp chives
slider buns
¼ cup garlic butter
1 cup gruyere, grated
2 tbsp worcestershire sauce
Instructions
In a large bowl, mix together your meats, breadcrumbs, egg, sour cream, parsley, garlic, spices, salt and pepper. Form into 12 meatballs.
Fry your meatballs in the 1 tbsp olive oil until nicely browned all over. Remove from the pan. Add butter and flour and cook out until the raw smell has gone. Gradually add your stock. Season with salt, pepper and worcestershire sauce. Bring to a simmer for 5 minutes, then return the meatballs and turn to low heat. Cook for 10 minutes or so, turning and basting the meatballs from time to time.
Push the meatballs to the side of the pan and stir in the sour cream and chives. Stir to combine then remove from the heat.
Cut your slider buns in half and brush each side with garlic butter. Grill until brown.
Pop a meatball on each bottom bun half and spoon over a little sauce. Cover with gruyere and grill until just melted. Top with the top bun halves and pin with a toothpick. Serve with the remaining meatball sauce!!
Watch the recipe video here: