Mini Cheeseburger Wellingtons
You may well remember the original cheeseburger wellington - that pastry bound bundle burgery cheesy wondrousness. Think of these as his little cousins, circling the great meat mothership. Basically, here at Twisted we love anything to do with cheeseburgers and the thought of having one stuffed with cheese and wrapped in pastry is essentially heaven on a plate.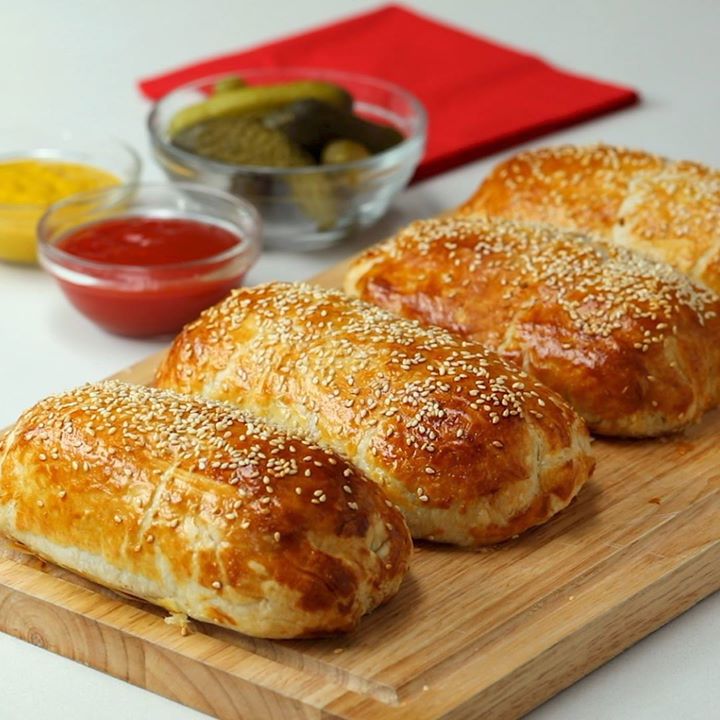 Ingredients
2lb beef mince
1 onion, finely diced
2 garlic cloves, very finely diced
1 tbsp salt
1 tbsp black pepper
4 sticks red cheddar
20 bacon rashers
16 slices American-style cheese
2 large sheets puff pastry
Instructions
Preheat the oven to 200°C/400°F.
Mix the beef mince together with the onion, garlic, salt and pepper.
Form into little rectangles and press a stick of the cheese in to the centre, then top with another lid of the mince mix. Press together to seal. You should be able to make roughly four wellingtons.
Lay the cooked bacon on a small rectangle of puff pastry (large enough to roll up one the little wellingtons and tuck any excess underneath). Top with roughly four slices of American cheese.
Place a wellington on the smaller end of the rectangle and brush any uncovered areas of pastry with egg wash, then roll the whole thing up and tuck the edges underneath.
Bake for 30 minutes or until the internal temperature registers as cooked.
Watch the recipe video here:
Mini Cheeseburger Wellingtons

Posted by Twisted on Tuesday, February 27, 2018