Teriyaki Beef Buns
Make something without cheese, they cried. Something that doesn't include bacon, the crowd chanted, banging against the lofty doors of Twisted Towers. Give us vegetables, they screamed. Well, dear fans, we heard your call - here is a dish teeming with fresh vegetables without an ounce of cheddar or bacon in sight. We are kind.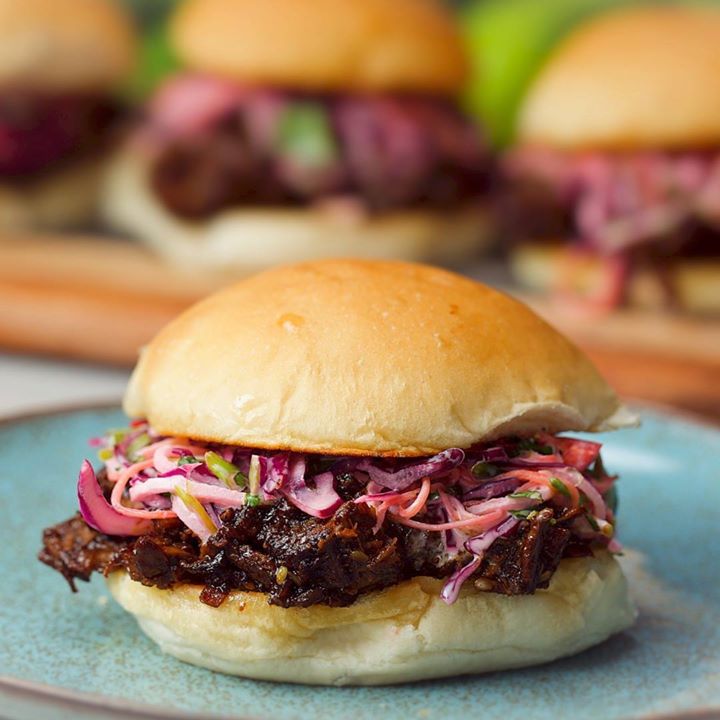 Ingredients
1 tbsp groundnut oil
2 lb sliced rump steak
1 tsp salt
1½ tbsp Chinese five spice
1 tbsp oil
1 tbsp sesame seeds
3 garlic cloves, crushed
5cm ginger, finely diced
1½ cups beef stock
3 tbsp dark soy sauce
1 tbsp sesame oil
2 tbsp sugar
2 tbsp corn starch
1 tsp water
Slaw
¼ red cabbage, finely shredded
1 large carrot, finely shredded
1 apple, finely shredded
4 spring onions, sliced
1 red chilli, sliced
1 cup mayonnaise
1 lime, juiced
1 tsp salt
1 cup chopped coriander
Instructions
Heat the oil in a large heavy bottomed frying pan and quickly fry the beef on a high heat.
Remove from the pan and add a little more oil then turn the temperature down. Fry the sesame seeds for a bit then add the garlic and ginger and fry for 30 seconds until fragrant.
Pour in the stock and add the beef back in, bring to a simmer and cook gently until soft. If your beef is cut really thinly it'll take less time, but usually takes around an hour.
Meanwhile make the slaw - mix it all together.
Toast some buns and fill each with the beef then the slaw. Nom.
Watch the recipe video here:
Sticky Teriyaki Beef Sliders

Posted by Twisted on Wednesday, March 14, 2018