Frank's Cheese Stuffed Burger Dogs
Hot diggity, there's a new top dog on the menu. Enjoy everything that's great about bacon, beef and barbecue with these cheese stuffed burger dogs. Slathered with Frank's RedHot and served on a pickle-packed toasted roll, this is the only way to celebrate summer in style.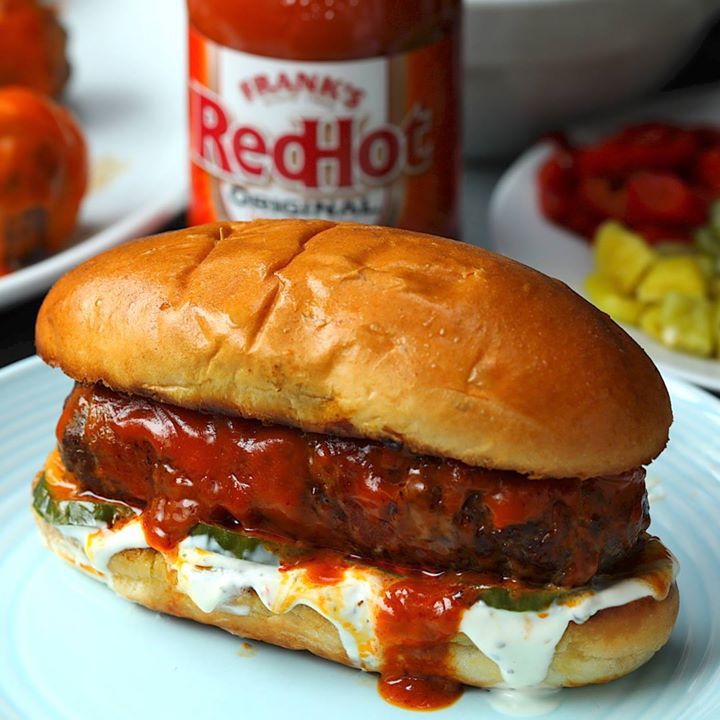 Ingredients
2lb ground beef
12 strips of bacon
1 tbsp black pepper
½ tbsp salt
1 tbsp onion powder
1 cup Frank's Original Hot Sauce
½ cup French's Classic Yellow Mustard
Monterey Jack Cheese, cut into strips
Grilled onions, for serving (optional)
Ranch dressing, for serving
Pickles, for serving
Instructions
In a large bowl, combine ground beef, pepper, salt and onion powder.
Divide the ground beef into palm-sized pieces, then shape into small logs and shape around the strips of cheese. Make sure the cheese is sealed.|
Lay out two adjacent pieces of bacon on a board. Roll each 'dog' in two strips. Combine the hot sauce with the mustard, honey and butter. Place the dogs on a hot grill (preheated to 400°F if using drum BBQ).
Grill for 5 minutes, turning frequently. Liberally glaze the dogs with the sauce, turning frequently. Continue until the dogs are cooked through, crisp, sticky and delicious. Serve in buttered, grilled hotdog buns with pickles and creamy ranch dressing.
Watch the recipe video here: