Asian Sloppy Joes
A twist to everyone's favorite weeknight dinner.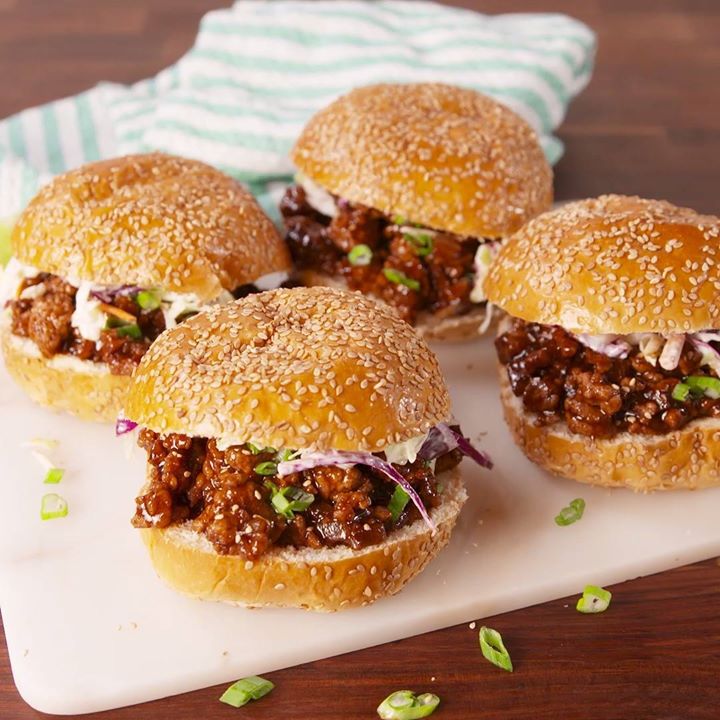 Ingredients
2 tsp. sesame oil
½ onion, chopped
3 cloves garlic, minced
1 lb. ground pork (or ground beef)
½ c. ketchup
½ c. hoisin sauce
2 tbsp. low sodium soy sauce
2 tbsp. brown sugar
1 tbsp. apple cider vinegar
kosher salt
Freshly ground black pepper
1 c. Shredded cabbage
2 tbsp. mayonnaise
Juice of half lime
2 tbsp. sesame seeds
2 Thinly sliced green onions
4 sesame buns
Instructions
In a large skillet over medium heat, heat sesame oil until fragrant, about 30 seconds. (Sesame oil can burn quickly, so don't heat it for too long!) Add onions and cook until beginning to turn tender, about 4 minutes, then stir in garlic and cook until fragrant, about 30 seconds.
Add ground pork, breaking up meat with a wooden spoon, and cook until no longer pink, about 6 minutes. Add ketchup, hoisin, soy sauce, brown sugar, and apple cider vinegar. Season with salt and pepper and bring mixture to a simmer. Cook until mixture thickens, about 5 minutes. Remove from heat.
In a medium bowl, combine shredded cabbage, mayonnaise and lime juice. Season with salt and pepper.
Make sandwiches: Top the bottom half of each bun with sloppy joe mixture then sprinkle with green onions and sesame seeds. Top with remaining bun halves.
Watch the recipe video here:
Never eating a sloppy joe the same way again. Full recipe: http://dlsh.it/NveVuy3

Posted by Delish on Monday, March 12, 2018