Polenta Fries
If you fry it, they will come! ?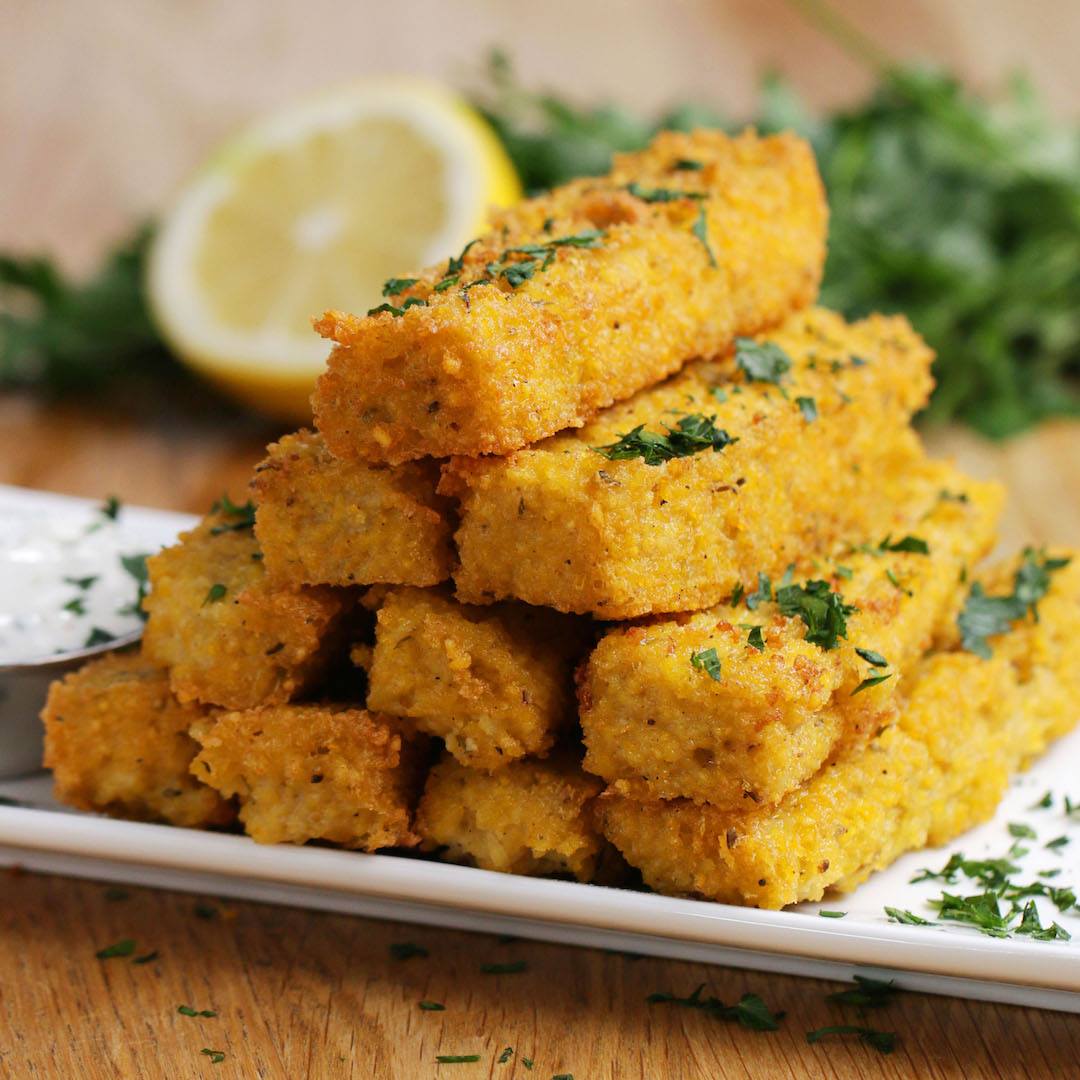 Ingredients
FRIES
nonstick cooking spray, for greasing
2 ½ cups (600 mL) milk, of choice
2 ½ cups (600 mL) vegetable broth
2 cups (320 g) polenta
2 tablespoons unsalted butter
1 teaspoon salt
½ teaspoon pepper
½ teaspoon dried oregano
½ teaspoon dried thyme
½ teaspoon dried rosemary
olive oil, for brushing (if baking)
4 cups (960 mL) canola oil, if frying
LEMON-HERB AIOLI
½ cup (120 g) mayonnaise
1 clove garlic, minced
1 tablespoon fresh parsley, chopped
1 tablespoon lemon juice
salt, to taste
pepper, to taste
Instructions
Grease a baking sheet with nonstick spray.
In a medium pot over high heat, add the milk and vegetable broth and bring to a boil.
Whisk in the polenta and reduce the heat to low, whisking continuously for about 5 minutes, or until all the liquid has been absorbed and the polenta is creamy.
Add the butter, salt, pepper, oregano, thyme, and rosemary and stir until well-combined.
Transfer the polenta to the prepared baking sheet and spread out evenly with a spatula. Chill for at least 2 hours or up to 3 days to set.
If baking, preheat the oven to 425ºF (220ºC).
Make the aioli: Combine the mayonnaise, garlic, parsley, and lemon juice, salt, and pepper in a small bowl and mix until well-combined. Chill until ready to use.
Carefully flip the baking sheet onto a cutting board to release the polenta. Slice in half lengthwise, and then cut into 22 equal-sized fries, each about 4 inches (10 cm) long and 1 inch (2 ½ cm) wide.
If baking, use a spatula to transfer the fries onto wire racks set over 2 baking sheets. Brush each fry generously with olive oil. Bake for 30 minutes, flipping halfway through and brushing with more oil, until golden brown.
If frying, heat the canola oil in a large pot until it reaches 375ºF (190ºC). Using a large spider, submerge 2 fries at a time into the oil and fry for 2-4 minutes, until golden brown and crispy. Remove from the oil and transfer to a plate lined with paper towels to cool for at least 5 minutes.
Serve the fries with aioli.
Enjoy!
Watch the recipe video here:
If you fry it, they will come! ?FULL RECIPE: https://tasty.co/recipe/polenta-fries

Posted by Tasty on Thursday, August 2, 2018