Campfire Cookies
What kind of cookie can top a s'more at a cookout? One that is topped with an adorable candy campfire, complete with tiny toasted marshmallows on sticks. Bring a batch of these to your next camp-out -- whether deep in the woods or just in your backyard -- and watch the smiles break out among your troop.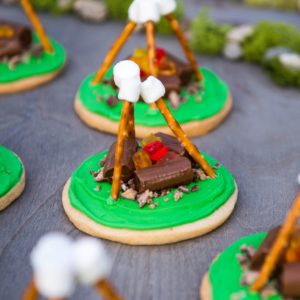 Ingredients
Cookies:
2½ cups all-purpose flour, plus more for rolling (see Cook's Note)
¼ teaspoon baking powder
¼ teaspoon fine salt
¾ cup superfine sugar
2 sticks (1 cup) unsalted butter, cut into small pieces, at room temperature
1 large egg, lightly beaten
1 teaspoon pure vanilla extract
Royal Icing:
One 1-pound box confectioners' sugar
2 tablespoons meringue powder
Green gel food coloring
Decorations:
Coarsely chopped chocolate-covered almonds, peanuts or malt balls (for the dirt)
54 chewy chocolate candies, such as Tootsie Rolls
10 red gummy bears, snipped into small pieces
10 yellow gummy bears, snipped into small pieces
10 orange gummy bears, snipped into small pieces
10 light pink gummy bears, snipped into small pieces
54 mini marshmallows
54 pretzel sticks
Instructions
For the cookies:
Whisk together the flour, baking powder and salt in a small bowl. Beat the superfine sugar and butter with an electric mixer on medium speed in a large bowl until light and fluffy, about 5 minutes; beat in the egg, then the vanilla. Add the flour mixture and mix on medium-low speed until completely incorporated. Divide the dough in half, pat into 2 discs about ¼-inch thick and wrap in plastic wrap. Refrigerate until firm, about 1 hour.
Position oven racks in the top and bottom thirds of the oven and preheat to 350 degrees F. Line 2 baking sheets with parchment paper. Let the dough sit at room temperature for a few minutes to make rolling easier. Roll out 1 disc of dough at a time on a floured work surface to about ¼-inch thick. Cut out rounds with a 3½-inch cookie cutter and arrange about 1 inch apart on the prepared baking sheets.
Bake, switching and rotating the pans halfway through, until the cookies are golden brown on the bottom, 10 to 12 minutes. Let the cookies cool on the baking sheets until firm enough to transfer to a wire rack; let cool completely.
For the royal icing:
Combine the confectioners' sugar and meringue powder in a large bowl. Add 5 tablespoons water and beat with a mixer on medium-high speed until soft glossy peaks form, adding 1 to 2 tablespoons water if necessary, to make a thick but spreadable icing. Beat in the food coloring, a few drops at a time, to make a deep green color (for grass).
For decorating:
Spread the icing on the cookies, almost to the edges. Sprinkle the chopped chocolate covered nuts almost to the edge of the green to resemble dirt. Arrange 3 chewy chocolate candies in a triangle on top to resemble logs in a campfire. Fill the space in the center of each with snipped gummy bears to resemble a campfire and embers. Poke a marshmallow on the end of each pretzel stick and stick in the icing to form a tripod that meets in the center. Let the icing harden, about 1 hour.
Right before serving, light the marshmallows on fire and blow it out when they are toasted to your liking.
Watch the recipe video here: