Spiced Pineapple Upside-Down Cake
I often bake this beautiful cake in my large cast-iron skillet and turn it out onto a pizza pan. —Jennifer Sergesketter, Newburgh, Indiana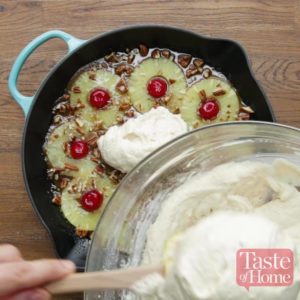 Ingredients
1-1/3 cups butter, softened, divided
1 cup packed brown sugar
1 can (20 ounces) pineapple slices, drained
10 to 12 maraschino cherries
½ cup chopped pecans
1-1/2 cups sugar
2 large eggs, room temperature
1 teaspoon vanilla extract
2 cups all-purpose flour
2 teaspoons baking powder
½ teaspoon baking soda
½ teaspoon salt
½ teaspoon ground cinnamon
½ teaspoon ground nutmeg
1 cup buttermilk
Instructions
In a saucepan, melt ⅔ cup butter; stir in brown sugar. Spread in the bottom of an ungreased heavy 12-in. ovenproof skillet or a 13x9-in. baking pan. Arrange pineapple in a single layer over sugar mixture; place a cherry in the center of each slice. Sprinkle with pecans and set aside.
In a large bowl, cream sugar and remaining butter until light and fluffy. Add eggs, one at a time, beating well after each addition. Beat in vanilla. Combine the flour, baking powder, baking soda, salt, cinnamon and nutmeg; add alternately to batter with buttermilk, beating well after each addition.
Carefully pour over the pineapple. Bake at 350° until a toothpick inserted in the center comes out clean, about 40 minutes for skillet, 50-60 minutes for baking pan. Immediately invert onto a serving platter. Serve warm.
Watch the recipe video here:
You can bake this beautiful cake in your cast-iron skillet!Get the recipe for Spiced Pineapple Upside Down Cake here–> https://trib.al/Uo5xKgL

Posted by Taste of Home on Wednesday, June 26, 2019