Bloody Mary Bruschetta
Carbs and booze.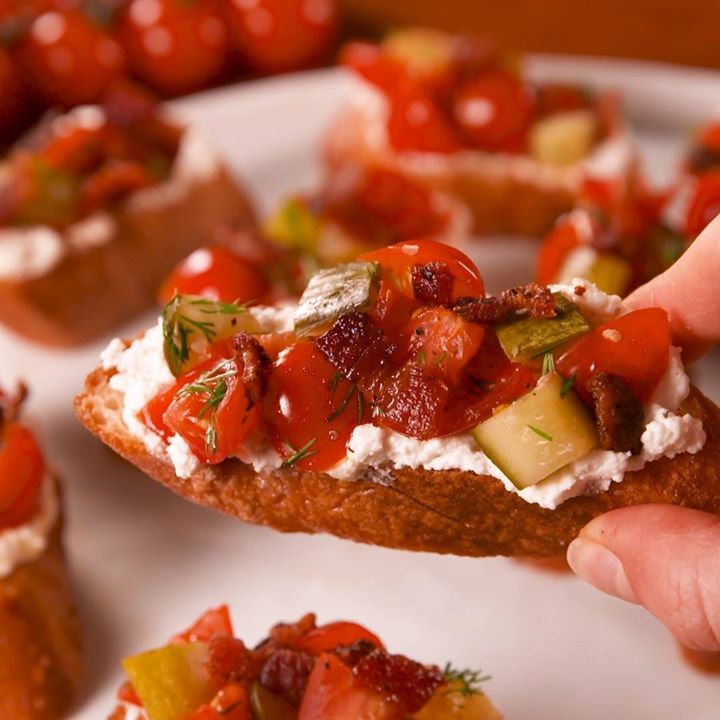 Ingredients
1 baguette, sliced
olive oil, for drizzling
¼ c. vodka
2 tsp. Worcestershire sauce
1 tbsp. prepared horseradish
2 tsp. Hot sauce
Juice of ½ lemon
1 pt. cherry tomatoes, quartered
½ c. chopped pickles
2 tbsp. Chopped fresh dill
3 slices bacon
Freshly ground black pepper
1½ c. ricotta
Instructions
Preheat oven to 400°. Spread baguette slices on large rimmed baking sheet and drizzle with olive oil. Bake until golden, about 10 minutes.
In a medium bowl, whisk together vodka, Worcestershire sauce, horseradish, hot sauce, and lemon juice. Add tomatoes, pickles and dill and toss to combine. Let marinate for at least 15 minutes and up to 2 hours.
In a large skillet over medium heat, cook bacon until crispy. Drain on paper towels and chop into bite size pieces.
Spread ricotta onto each toasted baguette slice then top with tomato mixture and bacon. Season with pepper and drizzle with more olive oil.
Watch the recipe video here: