Clementine Cream Puffs
Though they may be small, these clementine cream puffs pack a big taste!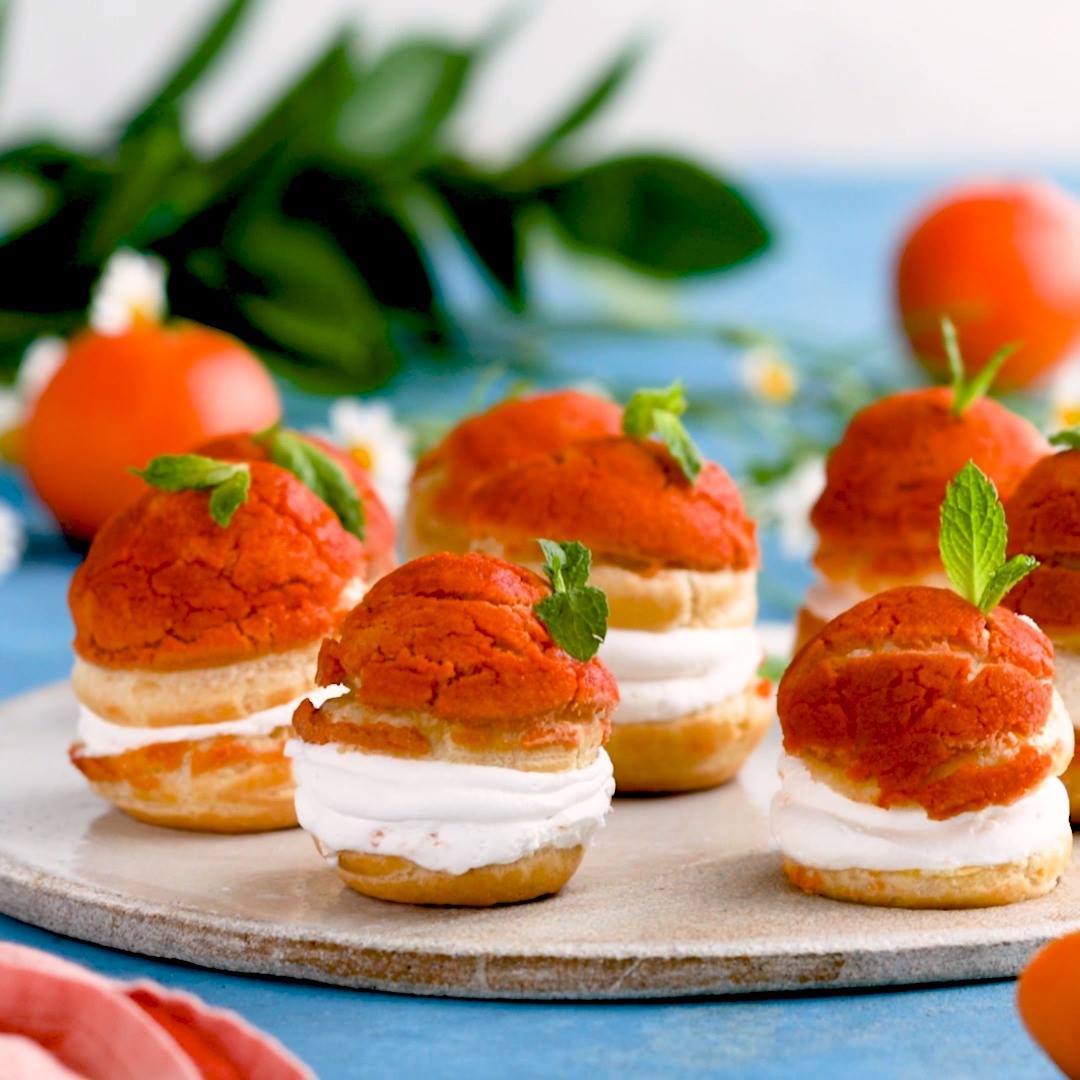 Ingredients
Choux dough:
½ cup unsalted butter
1 teaspoon sugar
½ teaspoon salt
1 cup water
1½ cups flour
4 eggs
Craquelin:
¼ cup unsalted butter, softened
⅓ cup light brown sugar
½ cup all-purpose flour
5 drops yellow food coloring
1 drop orange food coloring
Marmalade:
10 clementines, chopped
1½ cups sugar
2 tablespoons lemon juice
Cream filling:
1½ cups heavy cream
1 tablespoon clementine juice
Zest of 1 clementine
Mint, to garnish
Instructions
Preheat oven to 400 degrees. Prepare a baking sheet with parchment paper.
For the choux dough:
In a medium saucepan, bring butter, sugar, salt and water to a boil. Add the flour all at once and mix until it starts to pull away from the sides of the pan. Remove from the heat and beat in eggs one at a time.
For the craquelin:
In a medium bowl, mix softened butter with brown sugar until blended; add flour and lightly mix. Add food coloring and knead until combined and smooth. Roll out into a ¼-inch layer, and use a 1-inch round cookie cutter to cut into discs.
Using a piping bag with a ½-inch round tip, pipe 1 inch by 1 inch portions of the choux dough onto prepared baking sheet about 2 inches apart. Top with a disc of the craquelin. Bake for 25 minutes or until puffed and golden, rotating the pan halfway through the cooking process. Remove from the oven and let cool on a rack.
For the clementine marmalade:
In a medium saucepan, combine chopped clementines, sugar and lemon juice. Bring to a simmer and cook until thickened. Allow to cool.
For the cream filling:
In a large mixing bowl, whip cream, clementine juice and zest until stiff peaks form.
To assemble:
Slice a cream puff in half. Pipe ¼ cup of the whipped cream mixture on the bottom. Pipe a teaspoon of the marmalade in the middle of the cream and top with the other half. Garnish with mint.
Watch the recipe video here:
Simply put – these cream puffs are the zest.Taste for Yourself: taste.md/2tDalrgTry Tastemade TV, Free for 7 days: https://taste.md/2zcId3s

Posted by Tastemade on Monday, July 9, 2018