Chicken Pot Pie Cups
Bite size chicken pot pies are life giving.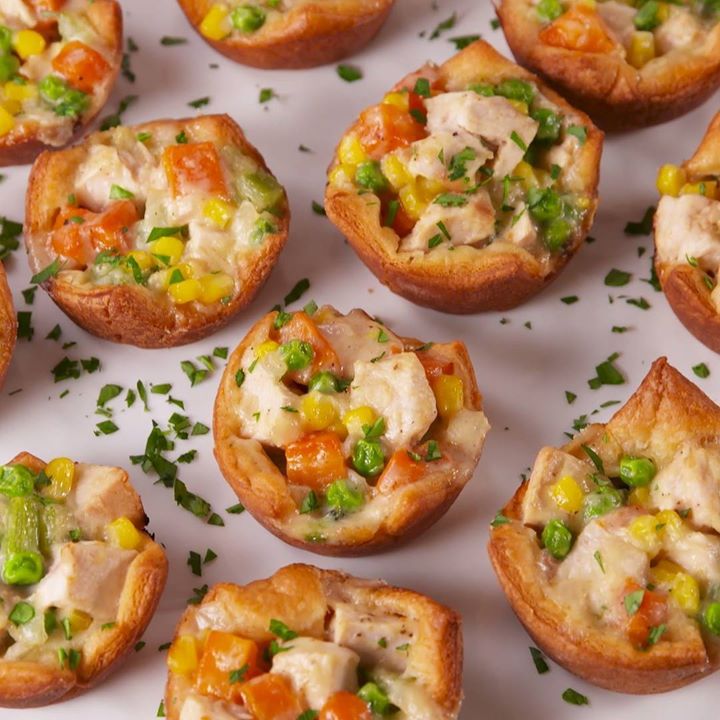 Ingredients
2 tbsp. butter
2 carrots, peeled and diced
2 celery stalks, diced
½ large onion, chopped
2 tsp. fresh thyme leaves
kosher salt
Freshly ground black pepper
2 tbsp. all-purpose flour
⅔ c. chicken broth
½ c. heavy cream
2 c. diced chicken
½ c. frozen peas
½ c. frozen corn
1 tube crescent dough
Instructions
Preheat oven to 375° and grease a muffin tin with cooking spray. In a large skillet over medium heat, melt butter. Add carrots, celery, onion and thyme and season with salt and pepper. Cook until softened, 3 minutes, then stir in flour and cook 1 minute.
Stir in chicken broth and heavy cream and bring to a boil, then reduce heat and simmer, stirring occasionally, until thickened, about 5 minutes. Stir in chicken, corn, and peas and simmer until warmed through. Remove from heat and set aside.
On a lightly floured surface, roll out crescent dough, and pinch seams together. Cut into 12 squares. Place squares into muffin tin slots. Spoon heaping spoonfuls of chicken mixture into each crescent cup.
Bake until the crescent is golden, about 15 minutes. Let cool slightly, pop out of muffin tray and serve.
Watch the recipe video here: