Roast Chicken in a Bundt Tin
use your bundt tin to give your roast potatoes the most amazing flavour!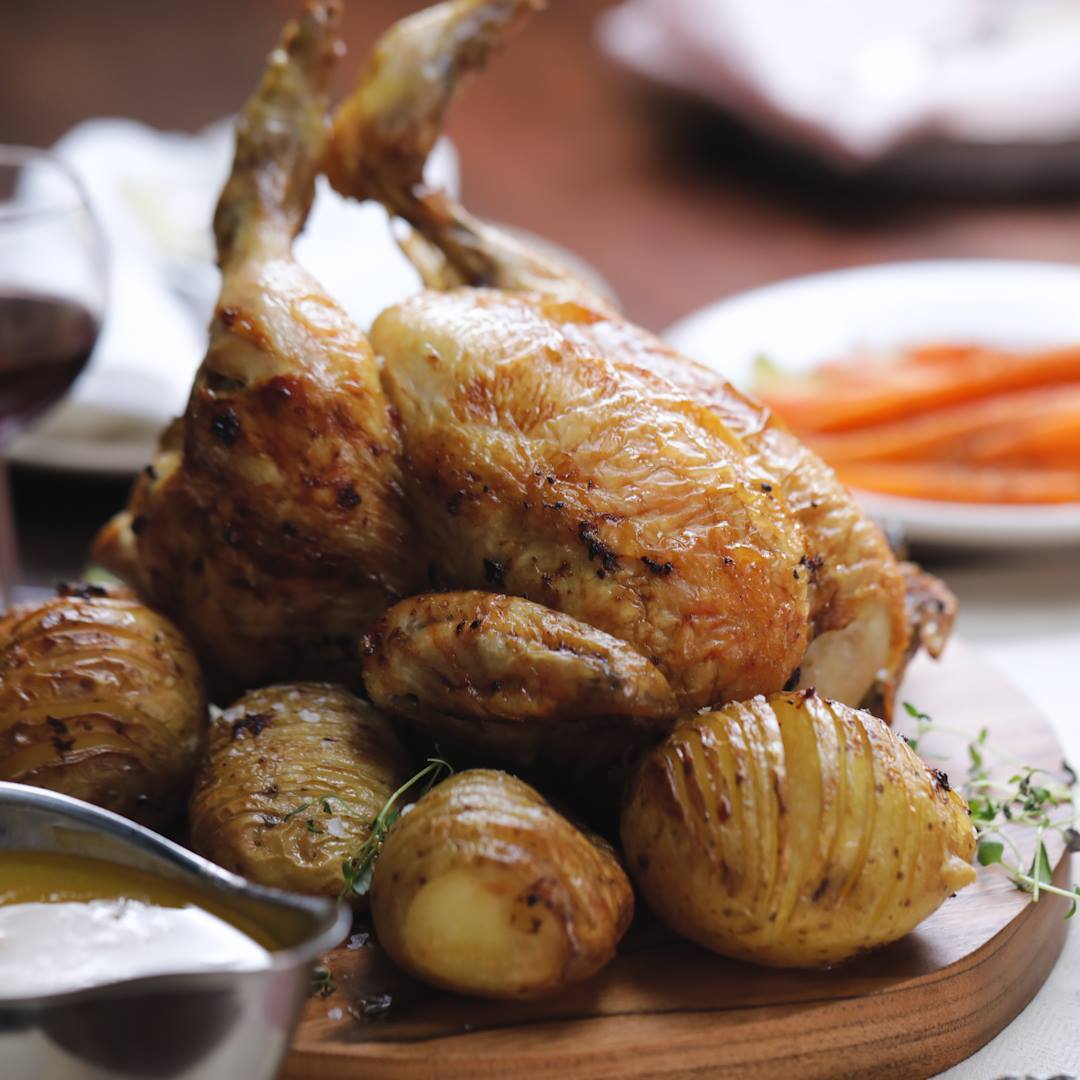 Ingredients
1.2-1.4kg high-welfare chicken
1 can lager/stout
3 shallots, chopped in half
1 head garlic, chopped in half across the equator
150g butter, at room temperature
6 sage leaves, chopped
1 tbsp marmite
1 lemon - zested
6 large potatoes
300ml chicken stock
1 tbsp oil
1 tbsp flour
Instructions
Preheat the oven to 200C.
Mix together the butter, sage, marmite, and lemon zest - put to one side.
Wash the potatoes, and slice them hasselback style. Grab a bundt tin and place the potatoes, shallots and halved garlic into the pan.
Open your can of lager or stout, pouring out about ⅓ of the can, and place into the centre of the bundt tin, then grab some tin foil and wrap it around the can, bridging the gap between the can and the bundt tin.
Place the chicken, legs down, on to the can and dot with the butter.
Season with salt and place into the oven for 1 - 1 ½ hours, or until the chicken is cooked through and when pierced with a knife, the juices run clear.
To make the gravy, remove the chicken and potatoes from the bundt tin and keep warm.
Skim off as much fat as you can from the juices that have run off into the bundt tin.
Place the oil and flour into a pan over a medium heat and stir together for 1 minute, then add the contents of the bundt tin. Mash everything together with a potato masher to extract the maximum flavour and then add the chicken stock. Bubble everything together for 5 minutes until the gravy has thickened.
Strain through a sieve into a gravy boat and serve with the chicken and potatoes.
Watch the recipe video here:
No, it's not weird to want to pour this gravy all over your body…Taste for Yourself: bit.ly/2LZeEnETry Tastemade TV for a week: https://taste.md/2JRnYNS?: Tastemade UK

Posted by Tastemade on Tuesday, June 19, 2018