Roasted Potato Croque Madame
A carved out baked potato filled with ham, cheese and topped with a fried egg is perfect for dipping thick-cut French fries.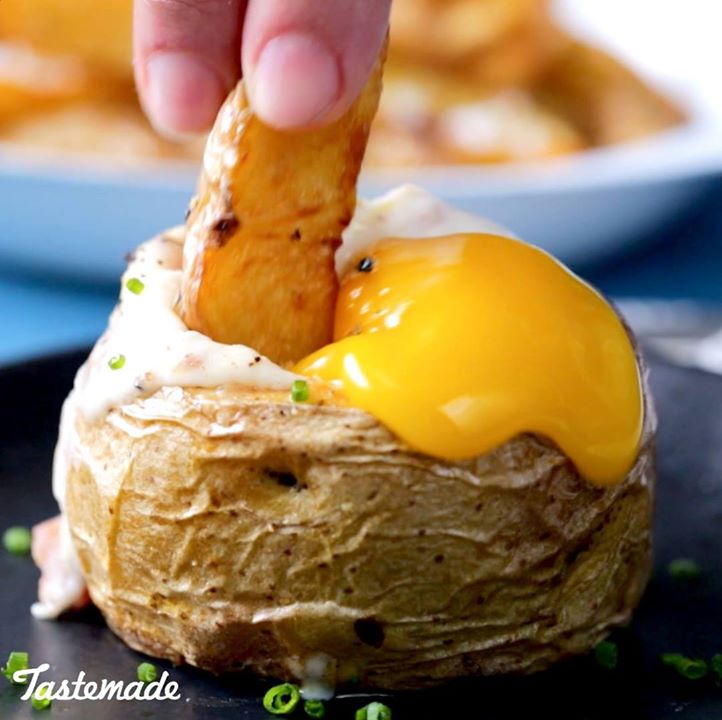 Ingredients
4 large Yukon gold potatoes
Extra-virgin olive oil
Kosher salt & freshly ground black pepper
1 quart canola oil, room temperature
2 tablespoons unsalted butter
4 tablespoons finely chopped ham steak
2 tablespoons all-purpose flour
1 cup whole milk
¼ teaspoon ground nutmeg
½ cup shredded Gruyere or Emmental cheese
4 large egg yolks
1 tablespoon finely chopped chives, for garnish
Instructions
Preheat oven to 350 degrees. Line a baking sheet with foil or parchment paper.
Trim off one-fourth from both ends of each potato (reserving them for French fries), leaving only the middle sections. Brush each potato with olive oil and season with salt and pepper. Place onto the prepared baking sheet and bake for 50 minutes to 1 hour until the flesh is tender and the tops and bottoms are browned.
To make the French fries: Cut the trimmed ends of the potatoes into short, fat sticks (so they hold up to dipping without breaking). Place into a bowl of ice water.
Remove the potato sticks from the ice water and completely dry using a clean towel. Put the sticks into a medium saucepan and cover with the oil, adding more if needed. Turn the heat on to medium and fry until golden, stirring occasionally, about 20 to 25 minutes.
To make the ham & cheese sauce: In a medium saucepan over medium heat, add the butter until melted. Add the ham. Season with salt and pepper and cook for 2 minutes. Add the flour and stir to combine. Cook for another 1 to 2 minutes. Gradually add the milk while whisking. Cook until slightly thickened. Add the nutmeg and stir to combine. Add the cheese. Stir until melted. Season with salt and pepper. Remove from the heat.
Remove the roasted potatoes from the oven and increase the heat to a high broil.
Carefully scoop out the flesh of each roasted potato (save for mashed potatoes), being careful not to pierce the bottom. Drizzle olive oil into each cavity and season with salt and pepper. Fill each of the cavities two-thirds of the way with the ham and cheese sauce. Top each with an egg yolk and one more spoonful of the ham and cheese sauce. Season with salt and pepper and a drizzle of olive oil.
Broil for 2 to 3 minutes for a runny yolk. Remove from the oven and garnish with chives.
Remove the French fries onto a cooling rack and season with salt and pepper. Dip the French fries into the cheesy potatoes.
Watch the recipe video here:
ATTENTION: Breakfast has officially reached new heights. Full Recipe: bit.ly/2FqXPji

Posted by Tastemade on Sunday, February 25, 2018