Broccoli Cheddar Soup
See ya later, soup cans.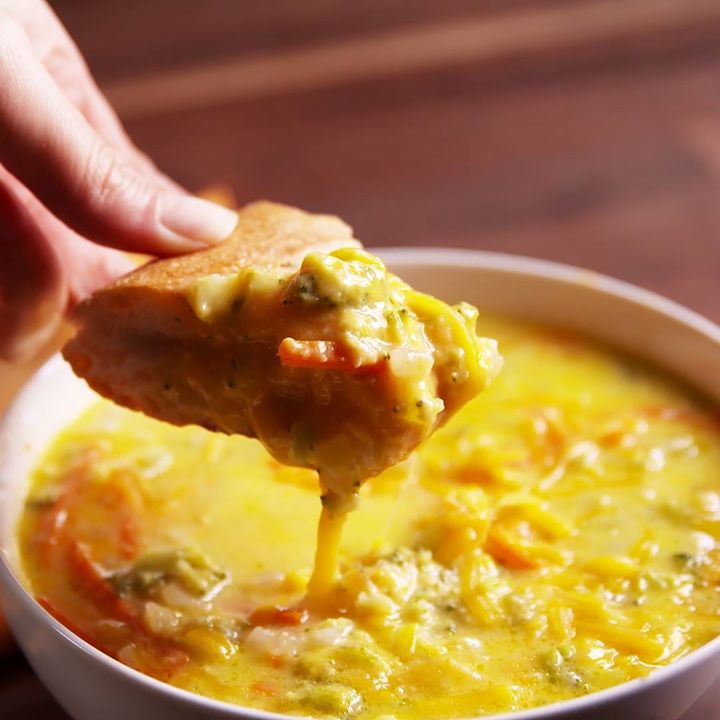 Ingredients
¼ c. butter
1 onion, chopped
¼ c. all-purpose flour
2 c. low-sodium chicken broth
kosher salt
Freshly ground black pepper
1 large head broccoli, finely chopped
1 large carrot, cut into matchsticks
2 stalks celery, thinly sliced
2 c. whole milk
3 c. shredded Cheddar, plus more for garnish
Baguette, for serving
Instructions
In a large soup pot, melt butter. Add onion and cook until soft, 5 minutes. Whisk in flour and let cook 2 minutes. Add chicken broth and season generously with salt and pepper.
Stir in broccoli, carrots, and celery and simmer until vegetables are tender, 20 minutes.
Reduce heat to low and add milk. Bring to a simmer and stir in cheddar.
Season with salt and pepper and top with more cheddar.
Serve with baguette.
Watch the recipe video here:
How To Make Broccoli Cheddar Soup

If you're OBSESSED with Panera Bread, you need to try our Broccoli Cheddar Soup.Full recipe: http://dlsh.it/rup48KO

Posted by Delish on Saturday, February 24, 2018