Giant Cheese-Stuffed Cracker
Forget the cheese plate: cut this giant cheese-and-cracker sandwich into wedges for a crumbly, creamy and tangy appetizer that you can nibble on its own or use as a spread for fresh vegetables.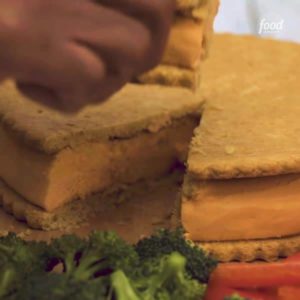 Ingredients
2 cups all-purpose flour, plus more for dusting
2 tablespoons sugar
1 tablespoon baking powder
¼ teaspoon baking soda
Kosher salt
10 tablespoons cold unsalted butter, cubed
2 tablespoons vegetable oil
1 large egg white, beaten
1 pound yellow Cheddar, shredded
Two 8-ounce blocks cream cheese
½ cup grated Parmesan
½ teaspoon paprika
Pinch cayenne pepper
Carrot sticks and celery, for serving
Instructions
Special equipment: a 9-inch fluted tart pan, a 12-inch skewer
Preheat the oven to 400 degrees F.
Add the flour, sugar, baking powder, baking soda and ½ teaspoon salt to the bowl of a food processor and pulse until combined. Add 8 tablespoons of butter and oil and pulse until fine crumbs form. Add ½ cup cold water and pulse until the dough comes together.
Dust a piece of parchment with flour. Turn the dough out onto the parchment and roll into an ⅛-inch-thick round. Use the top of a 9-inch fluted tart pan to stamp out a circle. Transfer the parchment and circle to a baking sheet. Dust another piece of parchment with flour, gather the dough scraps, roll and stamp out as before. Transfer the parchment and dough to another baking sheet.
Melt the remaining 2 tablespoons butter in a small microwave-safe dish and microwave in 30 second intervals. Brush each piece of dough with butter. Use the flat end of a 12-inch skewer to poke holes all over each round. Sprinkle each with salt. Bake for 10 minutes and then brush the dough with egg white. Continue to bake until the crackers are crisp and the edges begin to turn golden brown, 5 to 10 minutes more. Let cool completely on the baking sheet, about 20 minutes.
Meanwhile, add the Cheddar, cream cheese, Parmesan, paprika and cayenne to a medium saucepan. Cook over medium-low heat, stirring frequently, until the cheese is melted, smooth and orange, 5 to 7 minutes. Transfer the sauce to a bowl and let cool at room temperature, about 20 minutes.
Place one cracker onto a serving platter. Spread the cheese sauce over top of the cracker (the cheese should be about ¾-inch-thick). Top with the second cracker and smooth the edges of the cheese with your finger or an offset spatula. Refrigerate until chilled, about 1 hour. Slice and serve cold with carrot sticks and celery.
Watch the recipe video here: