Chicken Parm Meatball Skillet
All the flavors you love in chicken Parm in a super-delicious, juicy meatball.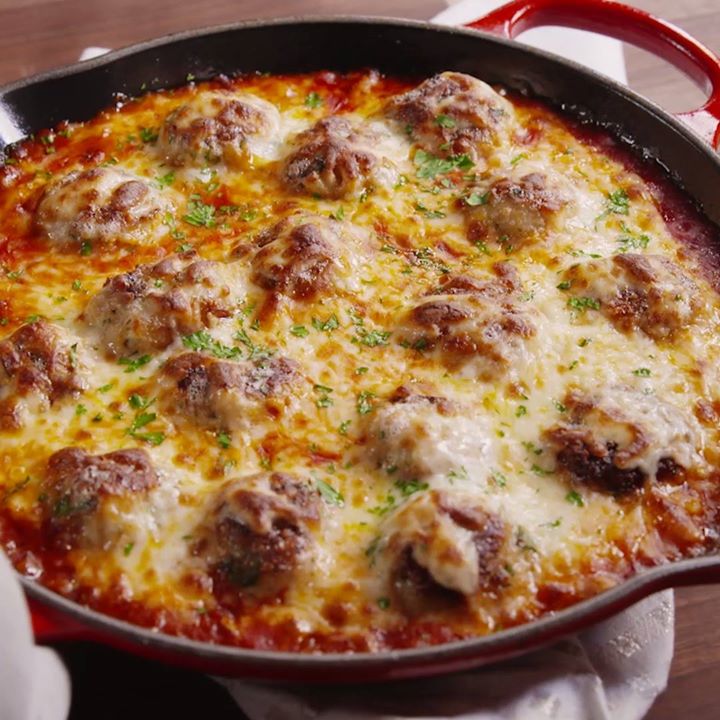 Ingredients
1 lb. ground chicken
½ c. breadcrumbs
¼ c. grated Parmesan, plus more for garnish
3 tbsp. Freshly Chopped Parsley
4 cloves garlic, chopped
1 large egg
kosher salt
Freshly ground black pepper
3 tbsp. extra-virgin olive oil
1 28-oz. can crushed tomatoes
1½ c. shredded mozzarella
Cooked pasta or crusty bread, for serving
Instructions
Preheat oven to 400 degrees F. Make meatballs: In a large bowl, combine ground chicken, breadcrumbs, Parmesan, 2 tablespoons parsley, half the garlic, and egg and season with salt and pepper. Mix until fully combined, then form into meatballs.
In a large oven-safe skillet, heat 1 tablespoon oil over medium heat. Add meatballs and brown each side, 5 minutes. Transfer to a plate.
Add remaining two tablespoons oil to skillet. Add remaining half garlic and cook until fragrant, 1 minute, then add crushed tomatoes and crushed red pepper flakes and stir until combined.
Bring to a low simmer, then return meatballs to skillet and nestle in sauce. Top with mozzarella and bake until cheese is melted and chicken no longer pink, 10 minutes more.
Garnish with remaining parsley and Parmesan serve over pasta or with crusty bread.
Watch the recipe video here: