Cookiedilla
Get ready for full-on gooey, melty madness.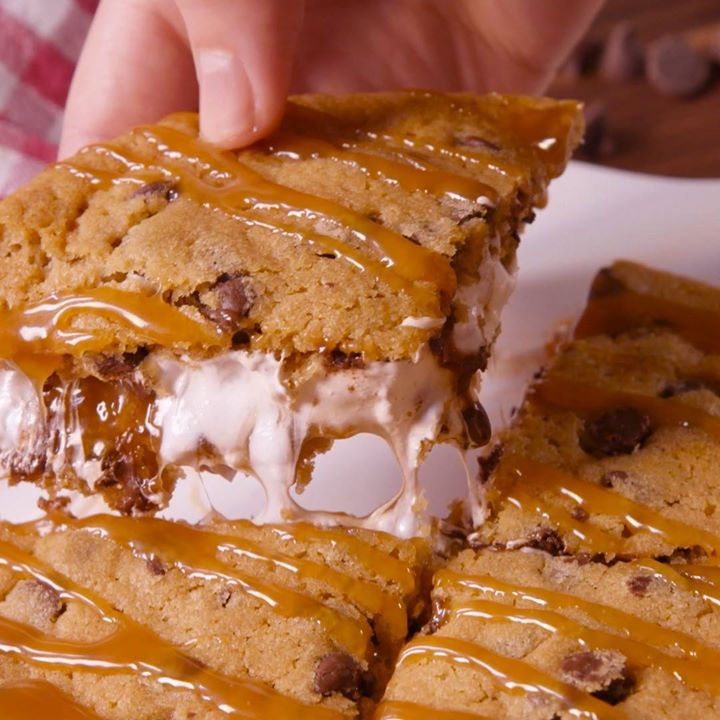 Ingredients
½ tube refrigerated chocolate cookie dough
2 tbsp. marshmallow Fluff
2 tbsp. caramel sauce, plus more for drizzling
¼ c. mini chocolate chips
Instructions
Preheat oven to 350 degrees F. Line a baking sheet with parchment paper.
Divide cookie dough into 2 balls. Place the cookie dough balls on the baking sheet far apart and flatten them into big discs. Bake for 15-20 minutes until golden brown and cooked through. (Now is not the time for an under-baked gooey center!) Let cool for about 10 minutes on baking sheet then transfer on a cooling rack to cool completely.
Spread marshmallow fluff on the bottom of one cookie and sprinkle with chocolate chips. Spread caramel sauce on the bottom of the other cookie and place the cookie, caramel side-down, on top of the marshmallow fluff. Place the sandwich in a nonstick skillet over medium-low heat, and cook until the chocolate chips are melted and caramel is gooey, about 2 minutes each side.
Watch the recipe video here:
The Cookiedilla is the yummiest way to use a roll of cookie dough.Full recipe: http://dlsh.it/A8UegS3

Posted by Delish on Friday, January 19, 2018