Peach Cheesecake
Once you try it, you're gonna wish each cheesecake was a peach cheesecake.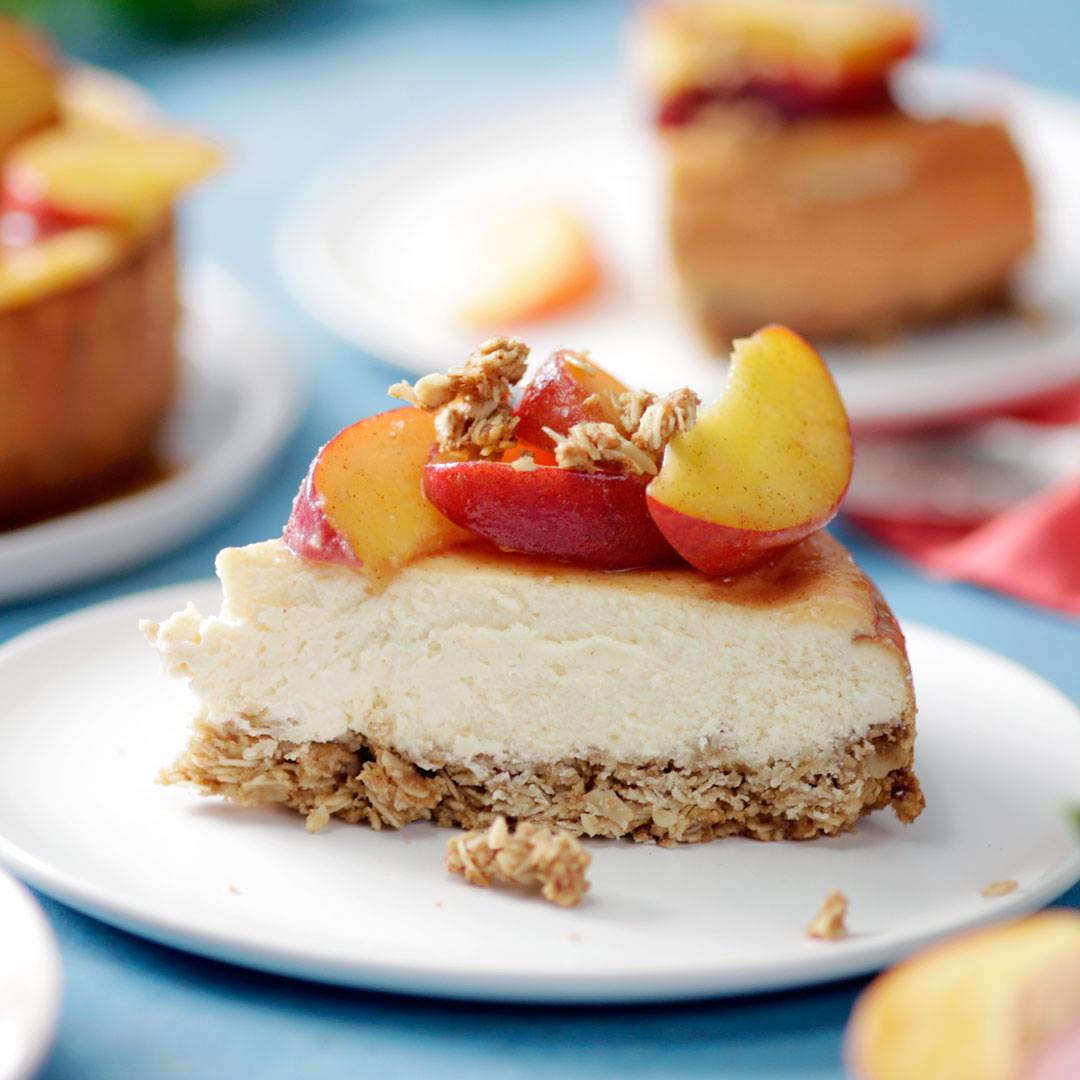 Ingredients
For the cheesecake:
2 cups oats
1 cup ground graham crackers
½ cup brown sugar
1 teaspoon cinnamon
½ cup melted butter
½ teaspoon salt
3 cups cream cheese, softened at room temperature
¼ cup sugar
3 large eggs
2 teaspoons vanilla
1 teaspoon lemon juice
For the peaches:
3 large peaches, sliced
2 teaspoons lemon juice
2 tablespoon sugar
½ teaspoon cinnamon
1 tablespoon butter
½ teaspoon salt
Instructions
Make the cheesecake:
Preheat the oven to 350 degrees. Line a 9-inch springform pan with baking spray and parchment paper.
In a small bowl, combine oats, graham cracker crumbs, brown sugar, cinnamon and salt. Stir in melted butter and press into the bottom of the pan. Set in the fridge while you make the cheesecake.
In a large bowl, beat cream cheese until smooth. Add sugar and then eggs one at a time until incorporated. Stir in vanilla and lemon and pour into set pan. Bake for 40 to 45 minutes until cheesecake puffs up and is slightly golden. Remove from oven and cool for one hour. Place in the fridge to chill completely for 2 hours or up to overnight.
Make the peaches:
In a medium saucepan, combine peaches, lemon juice and sugar. Add cinnamon, butter and salt and cook for 8 to 10 minutes until peaches are tender but still in slice form. Remove from heat and allow to cool up to 20 minutes. Be sure to save the residual sauce.
Assemble the cheesecake:
Top cheesecake with cooled peaches and drizzle with peach sauce. Serve with whipped cream. Cake will keep up to 5 days covered in the fridge.
Watch the recipe video here:
Eat just one slice? Peach, please. Taste for Yourself: taste.md/2m3MEEj

Posted by Tastemade on Tuesday, July 10, 2018