BBQ Chicken Stuffed Crust Deep Dish Pizza
A deep dish pizza slathered in cheese and stuffed with a naughty crust of chicken - this is going to be your new favourite dirty dinner. It's basically everything you've wanted a pizza to be; an unholy (but delicious) trinity of chewy bread, sloppy cheese and tasty toppings.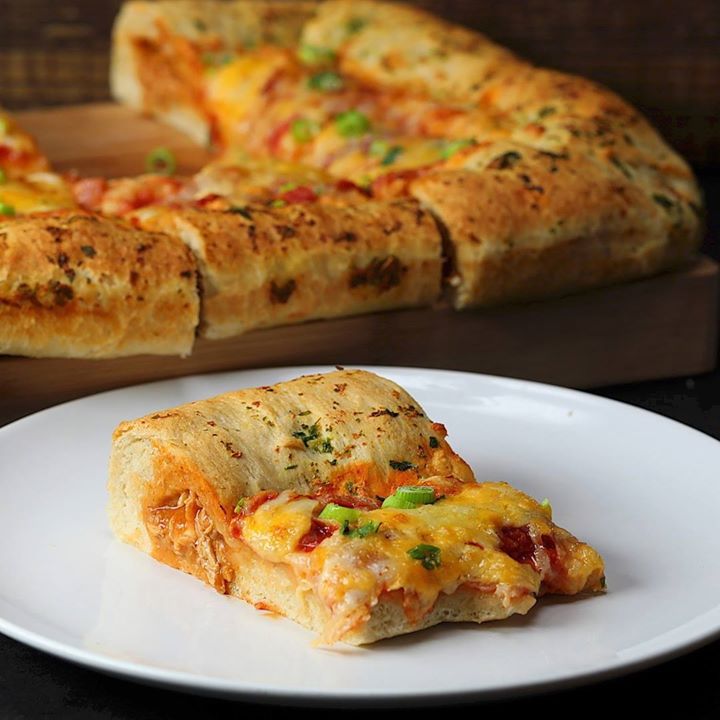 Ingredients
3 shredded chicken breasts
2 cups grated mozzarella
1 cup BBQ sauce
1 tbsp salt
pizza dough
6 tbsp pizza sauce
1 cup cooked bacon pieces
2 cups mixed cheddar and mozzarella
garlic butter
Instructions
Preheat the oven to 200°C/400°F
Mix together the shredded chicken with the mozzarella, BBQ sauce and salt.
Roll out the pizza dough and lay it over a large oven tray. Spoon the mixture around the sides and fold them over, pressing together to seal.
Spread the middle with pizza sauce and sprinkle with chopped bacon and mixed cheese - we used red cheddar and mozzarella.
Bake for 20 minutes until the crust is nice and crisp and cooked through.
Watch the recipe video here: