Creamy Scalloped Potato Pizza
Scalloped potatoes do seem like the ultimate luxury food. Who hasn't craved a creamy slab of starchy goodness before? When topped with pizza stuff we're really talking rustic deliciousness. Get stuck in,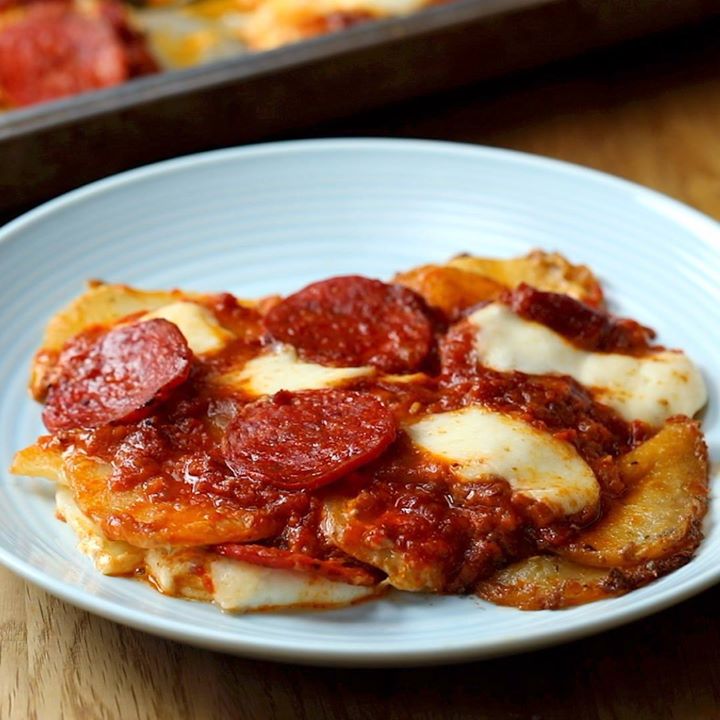 Ingredients
6 medium potatoes, peeled and sliced thinly on a mandolin
2 cups double cream
1 cup grated parmesan
2 cloves garlic, crushed
2 tbsp dried oregano
1 tbsp salt
1 tsp black pepper
1 tbsp olive oil
1 tsp butter
1 onion, finely diced
2 cloves garlic, finely diced
1 tsp chilli flakes
1 cup red wine
1 tin tomato passata
1 tsp salt
1 tsp sugar
Pepperoni
Fresh mozzarella
Instructions
Preheat the oven to 180°C/360°F.
Mix together the potatoes with the cream, parmesan, garlic, oregano and seasonings.
Pour into a greased baking tray and spread the potatoes into a layer. Bake for around an hour or until the potatoes are soft.
Heat the oil and butter in a pan and gently fry the onion until soft. Add the garlic and cook for a further minute, then add the chilli, wine and tomatoes. Cook until reduced, around 15 minutes.
Spoon the pizza sauce over the cooked potatoes and top with mozzarella and pepperoni.
Return to the oven and cook for a further 10 minutes until the cheese is melted and delicious.
Watch the recipe video here:
Sheet Pan Pizza Scalloped Potatoes

Posted by Twisted on Tuesday, March 6, 2018