Baileys S'mores Cheesecake
BAILEYS S'MORES CHEESECAKE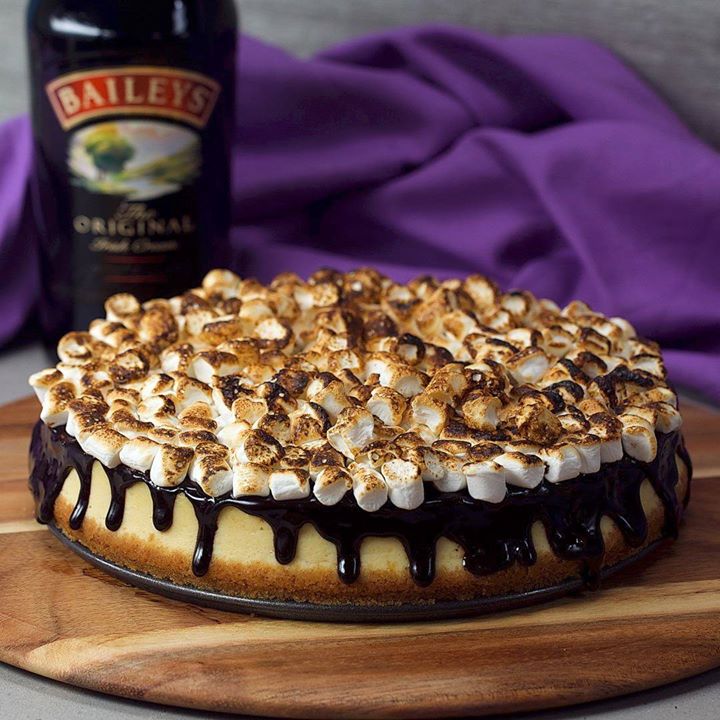 Ingredients
250g crushed cookie crumbs
50g granulated sugar
115g butter, melted
750g cream cheese, softened
150g granulated sugar
3 large eggs
30g flour
1 tsp vanilla extract
50ml Baileys
250ml Baileys
50g cocoa powder
50g golden syrup
100g chocolate, chopped
Marshmallows
Instructions
Pre-heat oven to 180C (350F). Line a spring form pan with parchment paper.
In a medium bowl mix together cookie crumbs, sugar, and butter until combined and wet sand-like texture. Press into the base of the spring form pan and use the back of a spoon or small bowl to press in.
Bake for 10 minutes, set aside to cool.
For the cheesecake filling, beat cream cheese with sugar, eggs, vanilla, flour and baileys until fluffy and smooth. Pour over graham crust. Bake in a 180ºC (350ºF) oven for 35 minutes. Turn oven off and keep oven ajar and let cheesecake cool.
Remove from oven and cool completely for 4 hours in the fridge or overnight.
In a small pot, whisk together Baileys chocolate luxe, cocoa powder, and golden syrup together. Bring to a boil stirring, then let simmer for 3 minutes to thicken. Remove from heat and whisk in chocolate until smooth.
Pour fudge sauce over cooled cheesecake. Top with marshmallows and toast with a blow torch.
Enjoy!
Watch the recipe video here:
Baileys S'mores Cheesecake

Posted by Twisted on Tuesday, March 6, 2018