Pineapple Upside Down Cheesecake
You are going to flip for this cheesecake.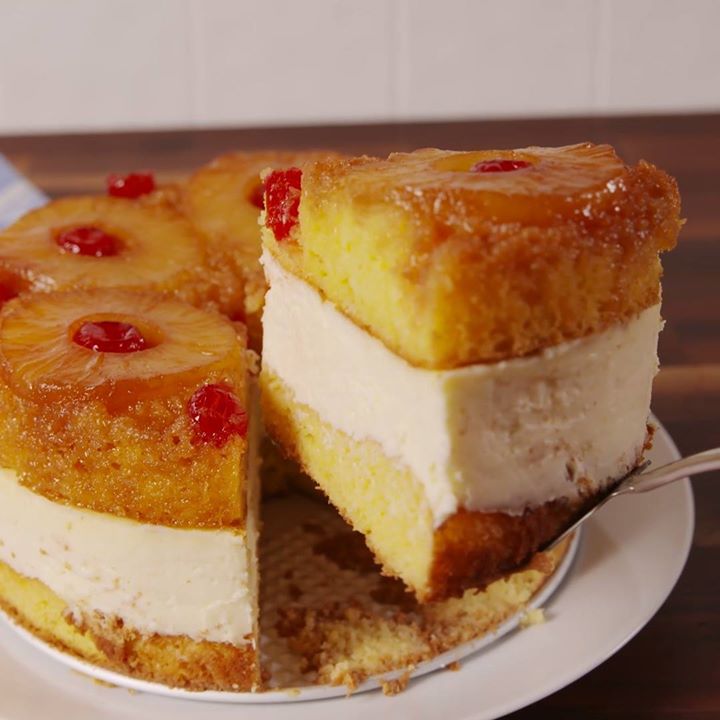 Ingredients
FOR THE TOPPING
Cooking spray, for pan
¼ c. unsalted butter
½ c. packed brown sugar
1 20-oz. can pineapple rings in juice
stemless maraschino cherries
FOR THE CAKE
1 box yellow cake mic
⅓ c. oil
1 c. pineapple juice
3 eggs
FOR THE CHEESECAKE
3 8-oz. packages cream cheese, softened
1 c. sugar
3 large eggs
¼ c. sour cream
2 tsp. vanilla extract
½ tsp. kosher salt
Instructions
Preheat oven to 350° and grease a 8" springform pan with cooking spray. In a 8" cake pan, melt butter in the oven. Add brown sugar to the bottom of the round cake pan. Spread mixture to the edges, then add 5 pineapple rings. Place cherries inside and in between pineapple slices.
Make cake: In a large bowl, combine cake mix, oil, pineapple juice and eggs. Whisk until smooth, then pour about half of the mixture over the pineapples in the regular cake pan. Pour the remaining half into the springform pan. Bake until the cakes are starting to turn golden and a toothpick inserted into the centers comes out clean, about 20 minutes. Let cool.
Meanwhile, make cheesecake layer. In a large bowl, beat cream cheese with a hand mixer until light and fluffy. Add sugar and beat until smooth. Add eggs one at a time, beating between each addition. Add sour cream, vanilla and salt and mix until smooth. Pour cheesecake layer over the baked cake in the springform pan. Wrap the bottom of the springform pan in foil. Pour cream cheese batter onto cooled cake and bake until cheesecake is slightly jiggly in the center, 1 hour to 1 hour 10 minutes. (Cheesecakes tend to crack if you don't use a water bath. If you don't want to use one, bake as directed. If you do want to use a water bath, double wrap the outside of the pan in aluminum foil and place in a baking dish. Place on oven rack and pour in enough boiling water to reach halfway up the pan. Bake as directed.)
If not using a water bath: Remove pan from oven and run a knife around the inside of the pan to release the cheesecake. Let cool 1 hour on a wire rack, then refrigerate until totally chilled, at least 4 hours and up to overnight.
Place cheesecake on a serving plate and top with pineapple upside down cake. Slice and serve.
Watch the recipe video here: