Spaghetti Layer Cake
Because spaghetti pie was so last season, enjoy it now in cake form with layers of pasta, bolognese, mozzarella, ricotta and more.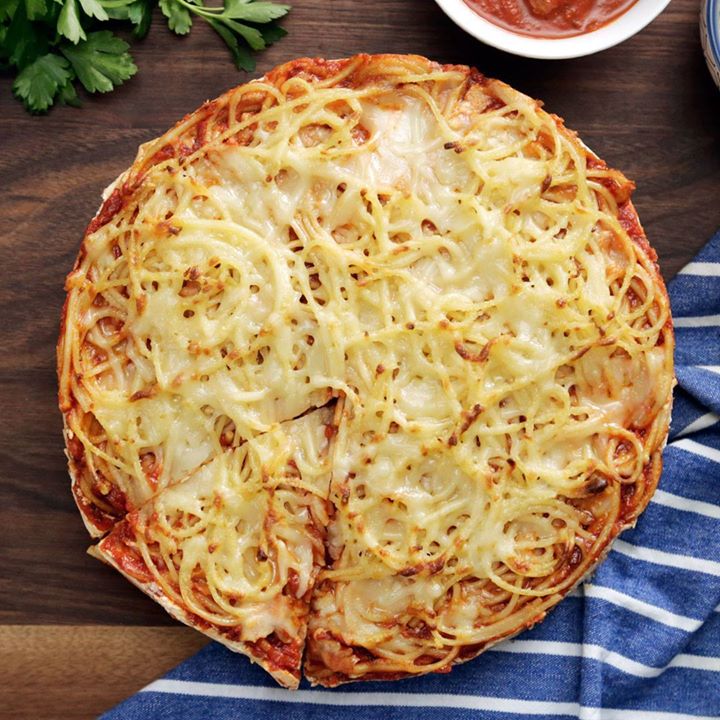 Ingredients
1 pound spaghetti noodles, cooked al dente
3 eggs, beaten
2 cups whole milk ricotta
1 (8-ounce) package mozzarella slices
2 cups bolognese sauce, cold
½ cup shredded mozzarella
¼ cup Parmesan, grated
Salt and pepper, to taste
Parsley, for garnish
Instructions
Preheat oven to 375 degrees. Lightly grease a springform cake pan.
In a large bowl, combine cooked and slightly cooled spaghetti with beaten eggs. Place one-third of the spaghetti mixture in the bottom of the prepared pan. Add slices of mozzarella cheese followed by 1 cup of the ricotta cheese and a sprinkle of salt and pepper. Use an offset spatula to spread ricotta evenly. Next, add 1 cup of the bolognese sauce. Repeat these steps one more time, ending with spaghetti on top.
Sprinkle pasta with shredded mozzarella and Parmesan. Bake for 35 to 45 minutes. Allow layered pasta cake to cool for 20 to 30 minutes before serving. This will ensure that the layers stay intact for a surprising presentation. Cut slices like a cake and enjoy!
Watch the recipe video here:
Grab yourself a slice of… spaghetti? That's right. A cheesy, meaty slice of spaghetti cake.Full Recipe: taste.md/2rZcT4M

Posted by Tastemade on Friday, February 2, 2018